RECIPE | Crackling Rolled Pork Loin with Brown Sugared Vegetables
10 DEC
Written and styled by Lucy Tweed. Photographed by William Meppem.
Warm and snug. Bare feet. Loose jeans. Thick sweaters. And sharing the bauble sorting.

Last year our tree was a giant dead branch, salvaged from a wrought iron fence and then jammed recklessly into the car.
It felt good to be so environmental and cost effective, although after evicting a giant spider, getting a wasp bite on my heel and having a cockroach crawl across my foot all while inside the car, I reconsidered the wilderness click and collect option.
This year we got a rather lovely pop-up faux tree. I will likely go back to something a little more imaginative next year, but because 2020 has been what it was, it was lovely to tick one more thing off the list with very little effort.
It's okay though, I am saving ALL shopping for the week prior just for the fun.
Hopefully next year we can be snuggling with my sister in the USA sorting miss etched baubles and cooking something long, low and slow.
Sweet scents of sugared vegetables, crispy potatoes and pork crackling so tap worthy you'll wake the non stirring mouse.
Ingredients
2kg pork loin, scored and rolled (ask your butcher to do this)
2 tbsp of table salt
2 tbsp of olive oil
1 tbsp sea salt
500g Dutch Cream potatoes, peeled and cut into 4cm chunks
150g butter, melted
1/4 cup brown sugar
2 pears, quartered and cored
4 parsnips, peeled and halved
2 shallots, halved
A bunch of sage
1/2 cup white wine
1 cup chicken stock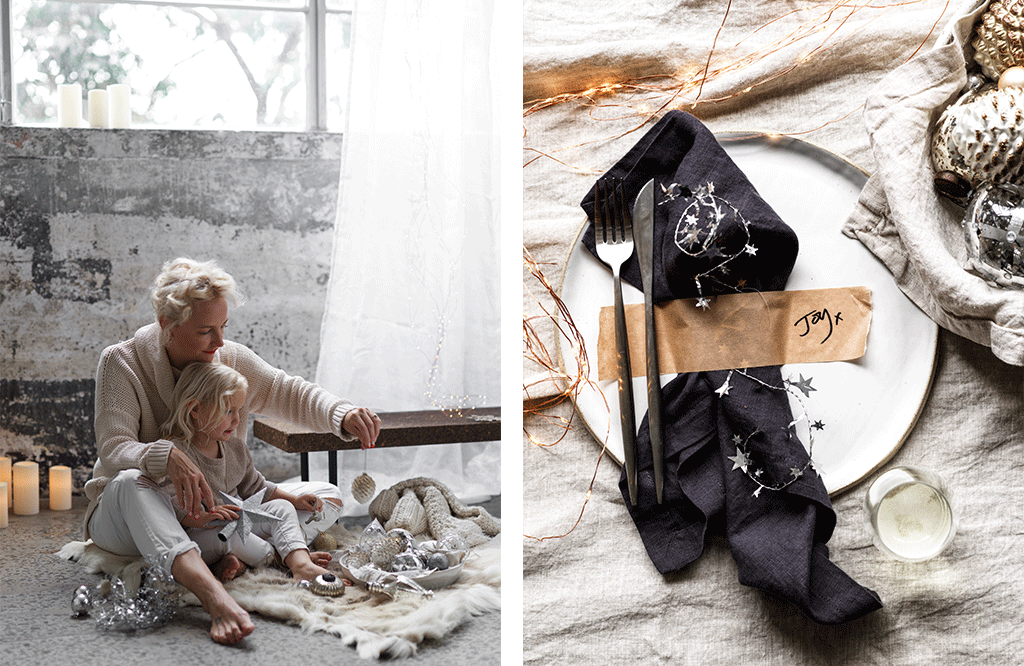 Method
1. Place pork loin on a rack in the sink.
2. Pour boiling water from the kettle over the skin, so the skin opens.
3. Place the pork on a tea towel or paper towel in a tray and salt heavily with table salt.
4. Leave it in the fridge to dry out overnight.
5. Remove the pork from the fridge 30 minutes prior to cooking so it comes to room temperature.
6. Preheat oven to very hot: 230°C+.
7. Remove paper towel, brush off salt, lightly oil and re-salt with sea salt.
8. Place onto a heavy based tray and in the oven for 30 minutes so skin begins to crackle.
9. Meanwhile, parboil potatoes in salted water.
10. Remove the pork from the oven and turn it down to 180°C.
11. Toss the potatoes in the pork fat and place around the pork.
12. Return to the oven and roast pork and potatoes for a further hour
13. Combine butter and brown sugar.
14. Toss the pears, parsnips, shallots and sage with butter and sugar mixture.
15. Place in a paper lined tray with 1/2 cup water and bake at 180° for 30 minutes.
16. Remove pork from the oven and set it aside to rest. The potatoes can be kept warm on a separate dish also.
17. In the base of the pan, over medium heat on the stove, add 2-3 tablespoons of flour to make a smooth golden paste. Add some sage and continue to stir.
18. Add 1/2 cup of white wine and simmer as it thickens. Add a cup of chicken stock or water and continue to stir as the gravy thickens.
19. Carve the pork and serve with sugared vegetables, crispy potatoes and gravy.