RECIPE | Cherry, Lychee and Star Anise Glazed Ham and Green Mango Salad
09 DEC
Written and styled by Lucy Tweed. Photographed by William Meppem.
The cicadas have started to threaten the sensors of car alarms, and salt crust on the skin becomes a recognised accessory. Most of us grew up absorbing the magic of a chilly white Christmas via TV, although the fantasy of snowmen, hot chocolate and woolly jumpers lasted as long as the cartoon.

Our Christmas day starts with presents, fruit salad and then a family plunge into the sea. A cool and refreshing dip into the deepest beach rock pool. Relishing the slosh of waves around you and soaking in the moment and trying to store the crispy sensations somewhere to draw upon later as the day looks to become even brighter.
Whatever I committed to in spring as far as lunch goes gets chucked out the window on the first 30°C day and replaced with something punchy in flavour but a whole lot less complicated.
This year I am drawing on the tangy-sweet flavours of cherry and lychee, infusing it with star anise and cinnamon to create a sticky glaze that will caramelise and candy over the scored fat of the ham.
This process of glazing and baking ham is purely to form a viscous coating, irresistible to the pinching fingers of passers-by to the toffee-like candy drips forming over the pork.
You could just not glaze the pork, it is ready from consumption when you buy it. Just peel back the skin carefully and slice on demand. But I highly encourage glazing. Aside from the nectarous coating, the cured meat plumps and the internal fat softens and seeps through the meat. It's deemed magic, but it's not as tricky as it might seem.
I am pairing this with an aromatic, crisp, sweet green mango salad with loads of herbs and crunchy Australian macadamia nuts.
It's lip-smackingly delicious and is the perfect pairing with a cold ocean swim and a glass of rosé.
Ingredients
Ham
7kg (or there about) cured ham
Glaze
560g drained lychees, blended
1/4 cup dijon
345g cherry jam
Cinnamon stick
3 star anise
Green Mango Salad
Flesh of 3 green mangoes, julienned
Flesh of 1 under ripe yellow mango, julienned, or chopped if too ripe
1 telegraph cucumber, seeds removed and sliced finely
1 Asian eschalot, peeled and finely sliced
1 punnet of cherry tomatoes, halved
Juice of 2 limes
2 tbsp brown sugar
2 tbsp fish sauce
1 birds eye chilli, finely chopped (optional)
Handful of coriander leaves
Handful of Thai basil
Leaves of a baby cos, trimmed and rinsed, placed back in the fridge until plating so they are SUPER crisp
1/2 cup toasted macadamia nuts, roughly crushed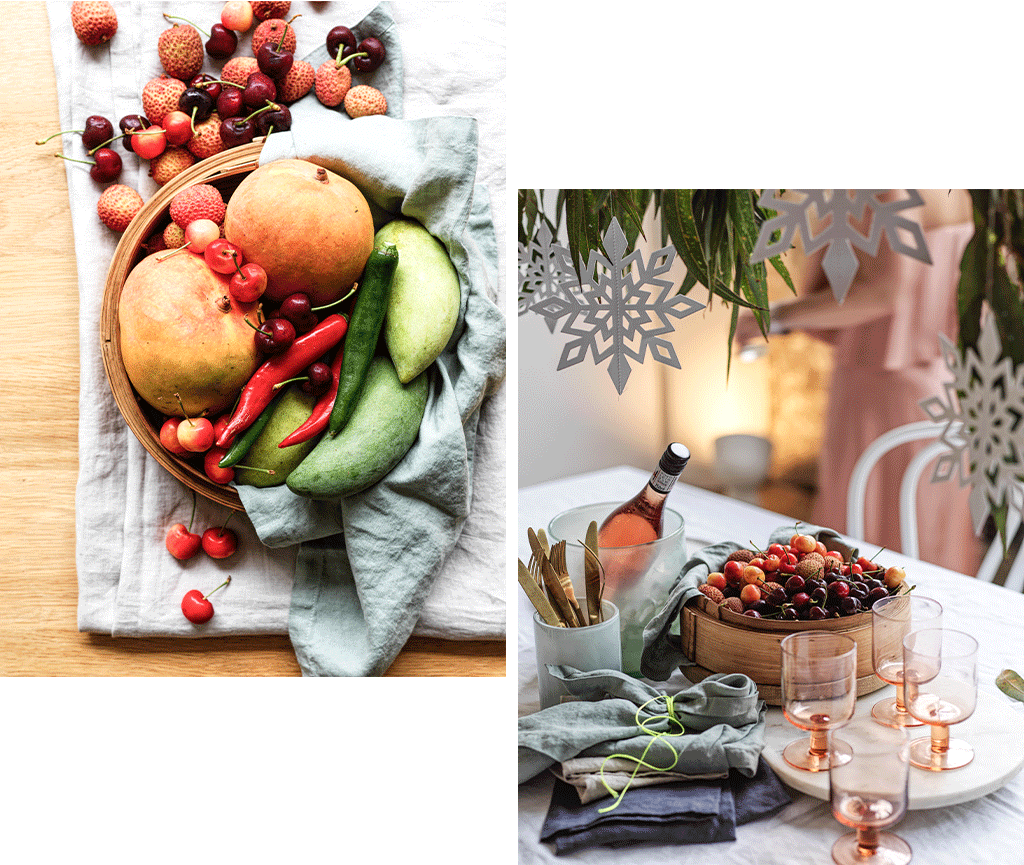 Method
Glazed Ham
1. Combine all the glaze ingredients and simmer over medium heat until thickened.
2. Using a sharp knife, cut into the skin around the knuckle and begin to carefully peel the skin from the ham. This is best done when the ham is at room temperature. The cuff can be cut into a star like shape or just a clean line like I have here.
3. Lightly score the fat. This is so when the ham begins to bake, the fat will open, creating channels for all that sticky glaze.
4. Preheat oven to 170°.
5. Place ham on a paper-lined tray.
6. Put ham into the oven for 10 minutes so that the fat separates.
7. Brush the ham with half the glaze and bake for 30 minutes.
8. Brush the ham with remaining glaze and bake for a further 30 minutes.
9. Remove from the oven when sticky and delicious.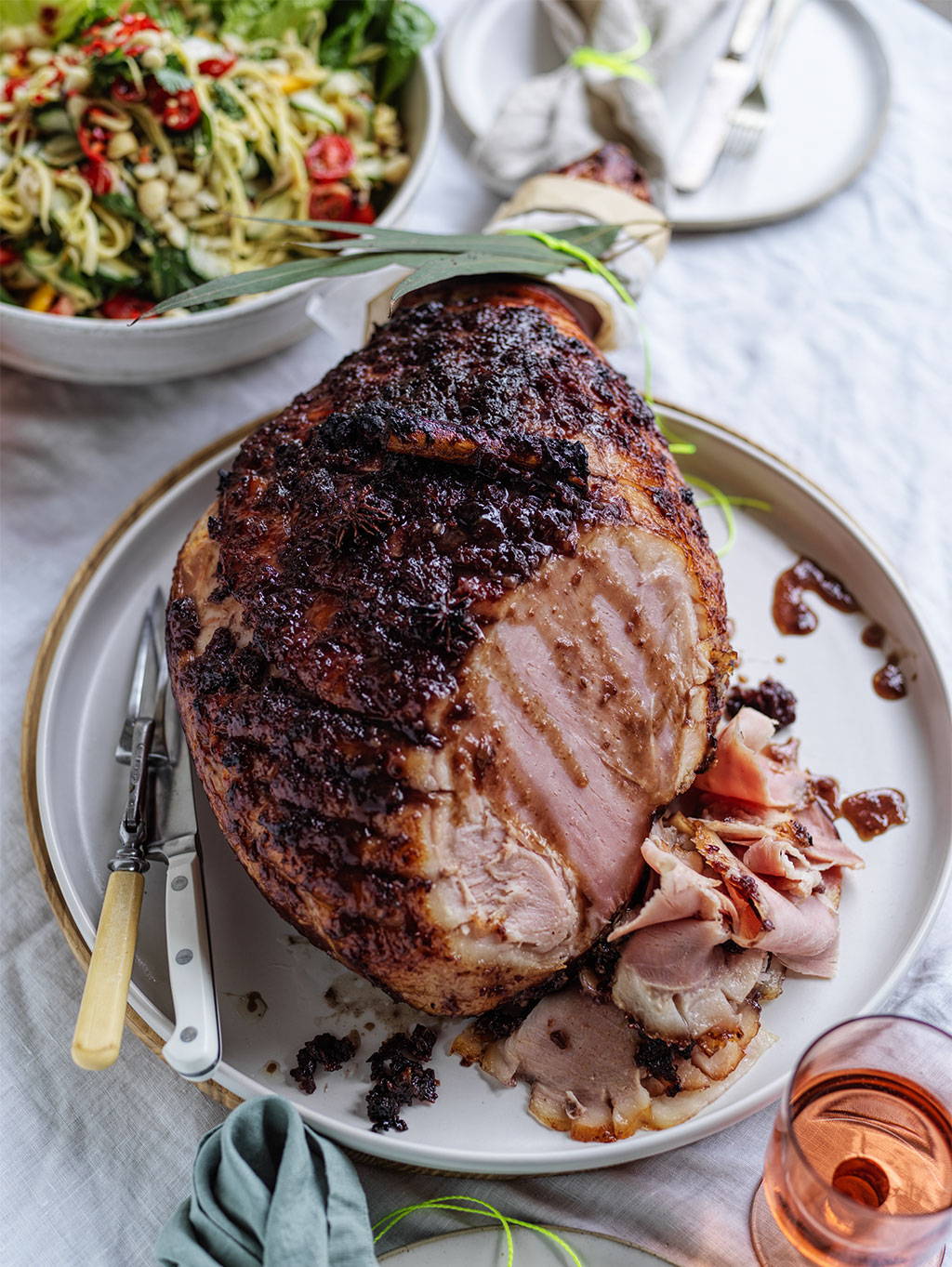 Green Mango Salad
1. Place the mangoes, cucumber, eschalot, tomatoes into a large mixing bowl.
2. Combine lime juice, sugar, fish sauce and chilli and toss through the mango mix.
3. Add the herbs, and toss again.
4. Assemble the lettuce on a large open platter.
5. Top with the mango mixture, and sprinkle with macadamias.