TRAVEL | Crafters Cabin
24 FEB
As we turn to nature to recharge and disconnect from city life, we're reminded of the lasting impact travel can have on our environment. Crafters Cabin, located in New South Wales' Snowy Mountain region has been designed with this in mind.
Completely off-grid, and built to complement the surrounding bushland, what draws us to the space is its well-considered design. During our stay, we spoke to Dan and Mitch, the team behind Crafters, about their decision to incorporate natural elements like timber beams and custom stonework, as well as to feature pieces from small and local crafters in the area.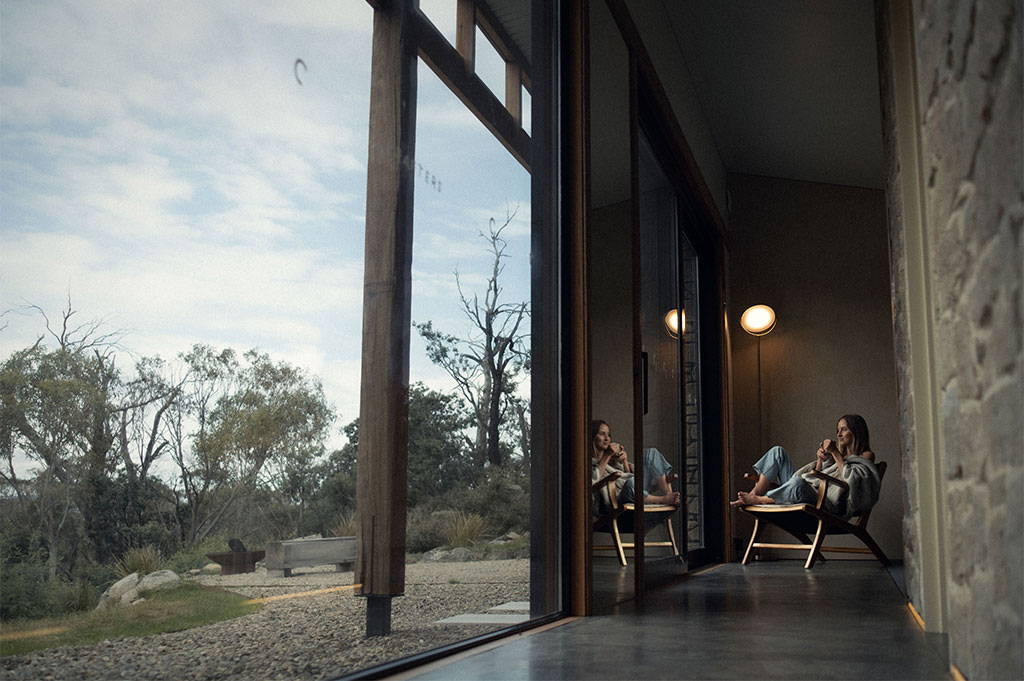 Can you tell us a little bit about yourselves and what you do?
We're Dan and Mitch, high school buddies who have called Jindabyne, NSW home since we were kids. Dan is an accomplished local carpenter and draftsman, and Mitch is a qualified horticulturist turned apprentice carpenter, so it's nice to be working together on the building site as well as Crafters. Between that and golf, mountain biking, fishing, snowboarding - we spend a lot of time together. We've both always enjoyed being in a creative space - Dan always has some kind of passion project (or two) in the works, and Mitch with a fine taste in food and art has always loved immersing himself in that environment.
It's set to be a big year for us with Crafters in full swing, both turning 30 and Dan ready to welcome his second baby into the world. We've been great mates for years and stoked to be on this new creative venture together.
What was your inspiration behind Crafters Cabin?
Having grown up in Jindabyne and being spoilt for choice with all that the Snowy Mountains has to offer, we've always been passionate about sharing this special slice of the world with others. We saw a huge gap in high-quality, luxury design in the area and knew that together we could create something really unique to offer visitors and show people a different side to the mountains. We both love being out in the bush, hiking and camping, where it feels like it's all yours and no one is around. We wanted to recreate that feeling, but in a really luxe and indulgent setting.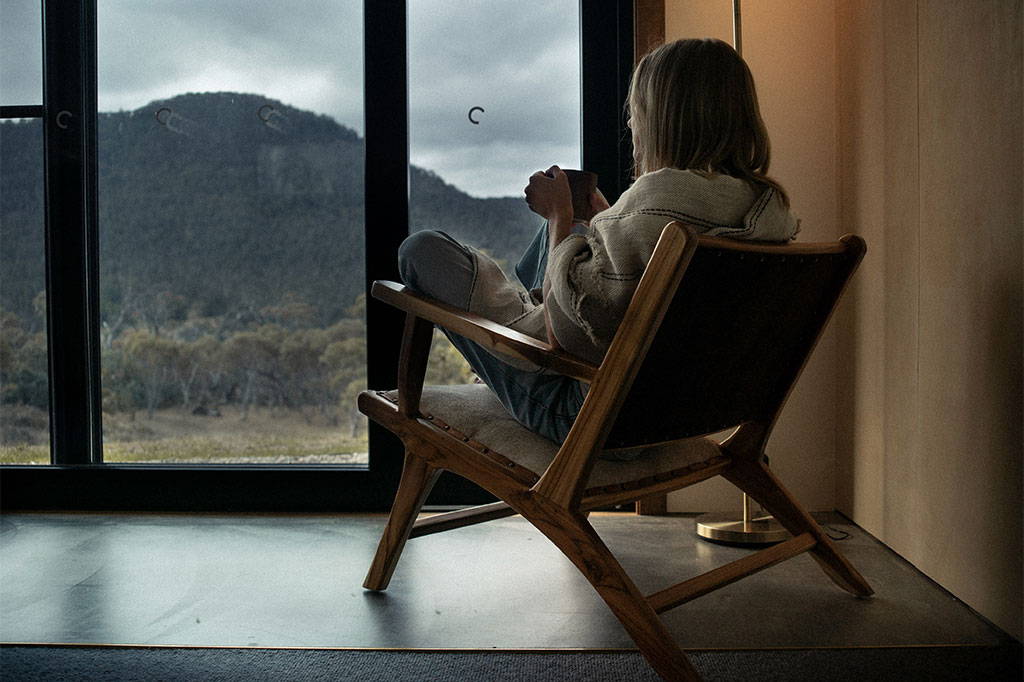 You designed and built the eco-lodge by yourselves, how does the concept of craft come into play in the space?
The idea behind Crafters was to create a space where local and Australian craftsmanship could be enjoyed and celebrated. It can be small things like using soft furnishing from local crafters like Restore Grace, or Australian made botanical toiletry products from Leif, or bigger more noticeable things like showcasing the works of small artists on the walls with guests able to purchase the pieces straight from us. We spent a lot of time fine tuning every last detail during the build and in the finishing touches to create a space where you could indulge in it all. Crafters is so much more than just the cabin you see, we have some pretty big plans in the works. As well as some more cabins, the dream is for a gallery space and shared workspace for crafters to come and work and showcase their pieces to sell to both visitors and locals.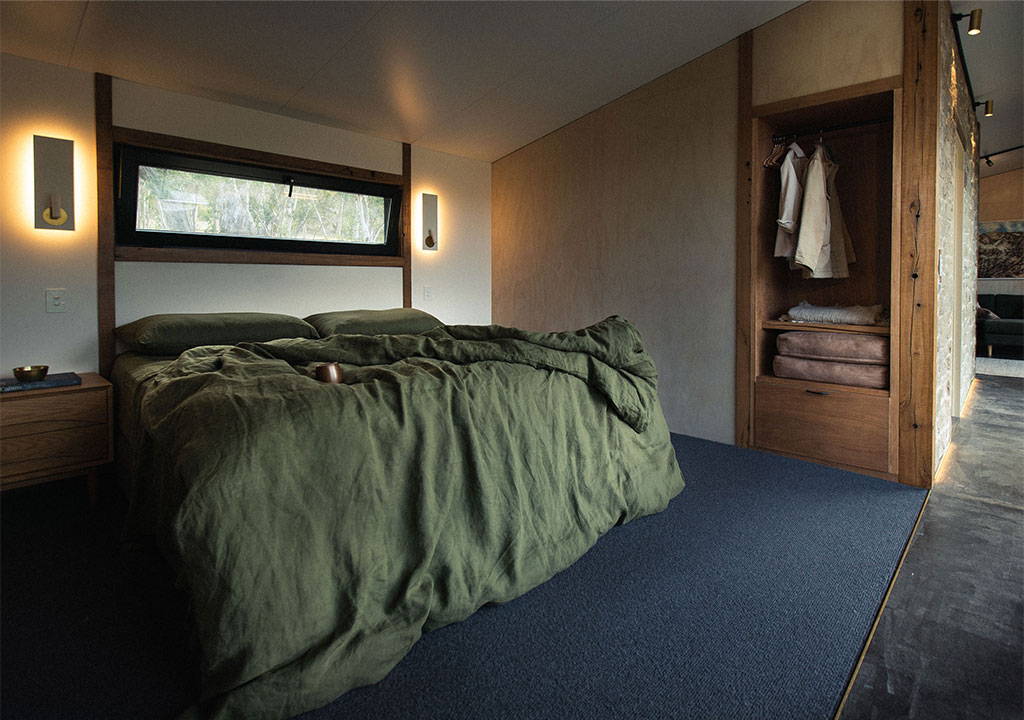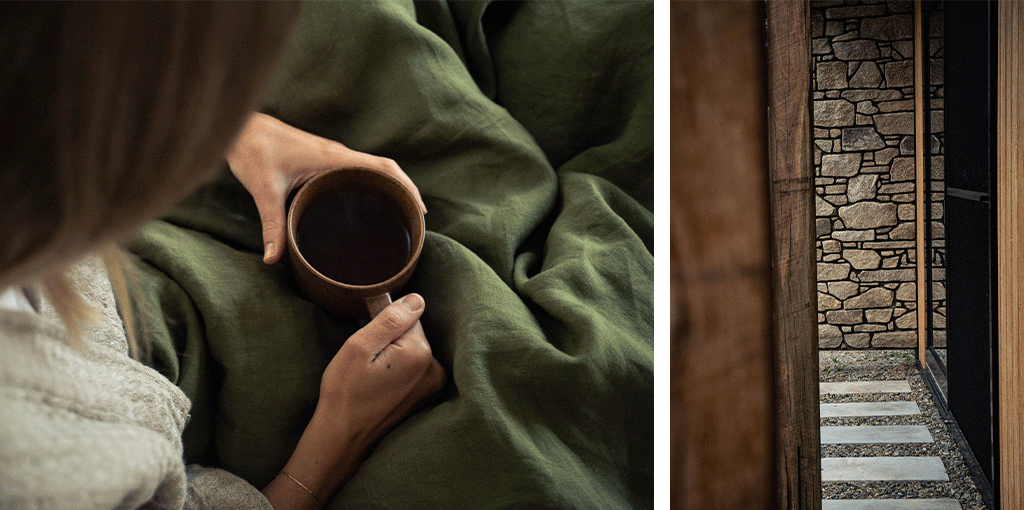 How important is sustainability to the Crafters ethos?
The charm of the Australian bush is in the simplicity and natural beauty of the landscape, and being nestled in our own slice of alpine bush, we knew it was important to bring that ethos into Crafters. We're 100% off grid - we get our energy from the sun, water from the rain, heat from our internal stone cladded thermal mass wall and waste removal from our worm farm.
Sustainability doesn't have to mean basic anymore - you can provide all the modern luxuries whilst still being gentle on our planet. We've grown up in this stunning, special landscape, and we want to do our part to help protect and prolong it.
Having grown up in the Snowy Mountains, what are some of your favourite things to do in the region?
When it comes to the Snowy Mountains, most people think of the winter. And don't get us wrong, we know how lucky we are to have the ski resorts right at our doorstep - skiing and boarding, touring in the backcountry, waking up to snow on those few lucky mornings each winter. But nothing beats the summer time! There's so much to do and explore. We're pretty spoilt for choice when it comes to camping spots and stunning hiking tracks around here. We spend our weekends swimming in the lake and rivers, mountain biking, fishing, or eating. There's some awesome local cuisine in the wider Snowy Mountains area - we love the Dalgety pub and Dalgety Microbrewery, Jindabyne Brewery, Crackenback Farm, The Wildbrumby Distillery, Takayama Japanese in Jindabyne, and La Famiglia Italian in Jindabyne, Shut the Gate Cellar Door in Berridale - just to name a few!