INTERVIEW | Rian Smith
04 JAN
It's always fascinating to see how people who style interiors for a living go about designing and setting up their own spaces. Today we step inside the home of Interior Designer, Rian Smith. Inspired by the energy of her previous hometown, New York City, it's no surprise that Rian's passion for creating beautiful spaces has resulted in the creation of a seriously cool warehouse apartment in Collingwood, VIC. We spoke with Rian about her rituals when setting up a new home and the importance of telling your own story through your home.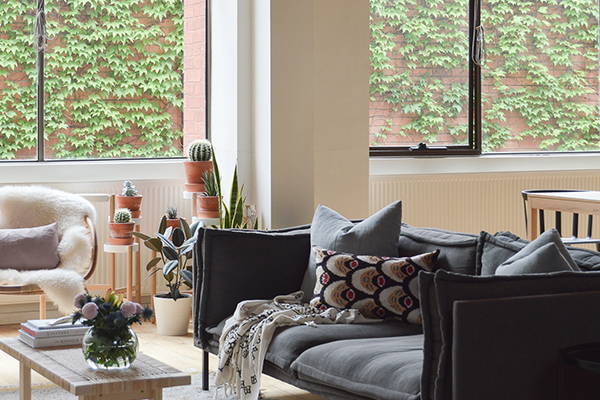 Tell us a bit about yourself and where you live?
Originally from upstate New York, I moved to New York City in 2012 to pursue my career in interior design. The energy of the bustling city streets, the fashion and art scenes, and the amazing architecture all fuelled and intensified my passion for design. The many creative outlets in the city challenged me to learn and grow. My love for creating beautiful spaces and exploring new design avenues has been a rewarding experience that I enjoy sharing with others.
Looking for the next adventure I was presented the opportunity to move to Melbourne. The neighbourhood of Collingwood offered an amazing community and made me feel right at home. The vibrant and eclectic streets always leave me feeling inspired and energised.
Tell us about your apartment and how long you have lived in your current home?
The apartment is tucked away in a refurbished Foy and Gibson warehouse in the heart of Collingwood. Soaring ceilings, massive light filled windows and original steel columns and beams add to its distinctive industrial flair and personality. The lofted bedroom adds to the warehouse charm. My boyfriend and I have been living in this apartment nearly a year and have absolutely fallen in love with it.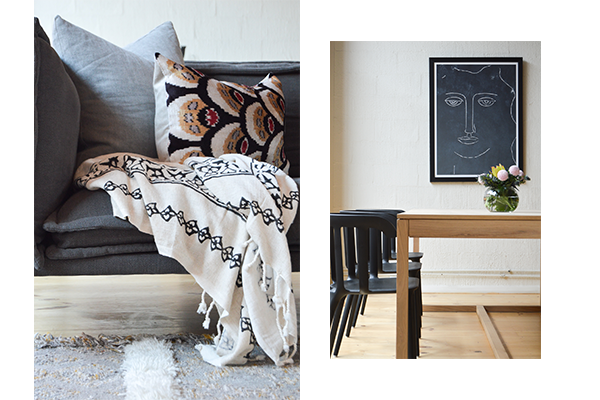 What do you love most about where you live and your current home?
I was immediately drawn to the windows and high ceilings. The windows are absolutely gorgeous, they allow sunlight to flood the apartment and create such an inviting and bright space. The high ceilings further complement the apartment, grounding the original industrial look. I wanted to include local designers and artisans to celebrate Australian style by incorporating natural textures, rattan chairs and light coloured woods.
One of my favourite times in the apartment is during a rainstorm. I love opening the windows, getting cozy in the living room and listening to the sound of rain hitting the roof while feeling the cool breeze move through the space. There's something really relaxing and soothing about this.
What do you think is important for making a house/apartment feel like a home?
I think the most important thing one can do to make their space truly feel like a home is to fill it with all things you love. While design trends flood social media, I think it's really important to stay true to yourself and always follow your own eye. The items in your home should help tell your story and the memories you've made along the way. At the end of the day your home is your space, where you feel the most comfortable, confident and calm.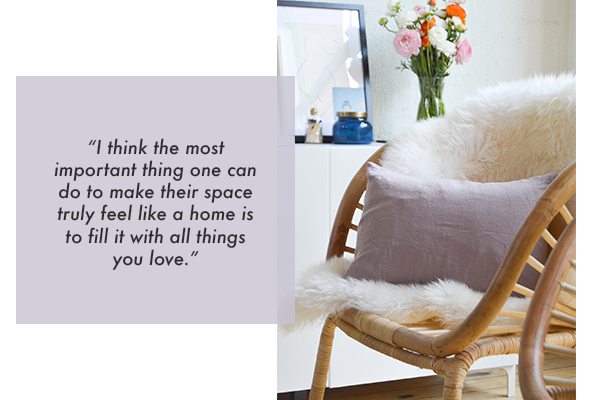 We hear you're soon moving back to NYC. Do you have any rituals you follow when setting up a new home?
Yes, absolutely! When I set up a new home I take the design process one step at a time, starting with a mood board. This helps me to understand the look and feel of the type of space I want to create. It doesn't need to be specific, but rather laying out a colour palette or textures that you envision in your home. I personally always start with one statement piece that brings in colour and then I start to layer different furniture pieces and accessories around it. Because it's your home, the layering never stops. That's the fun part! Your home is always evolving and being curated by whatever you fancy. At the end of the day your home represents your "me" space and it should be filled with items you love, cherish and find peace with.
What is your favourite way to unwind at the end (or during!) the day? And a treasured weekend ritual?
I like to find new ways to walk home after work exploring different neighbourhoods and searching for interesting terrace houses, new shops, and photographing things that excite my imagination. It's usually an understated design touch that catches my eye. Spotting ornate ironwork, a pop of color on a front door, or peeking around the corner to discover a modern take on a historical house.
A treasured weekend ritual includes waking up with the morning sunlight, enjoying a fresh cup of coffee in bed while scrolling through my favourite lifestyle blog Modern Hepburn. After coffee I enjoy sharing a leisurely breakfast with my better half. Scrambled eggs, avocado toast and a green smoothie are always on the menu. We usually follow this up with another round of coffees while we listen to a Chet Baker album and jot down our goals for the week. Having a nice slow morning sets the tone for a relaxing and chill weekend. It's a time to unwind from the busy week and just enjoy being in our apartment before we set out for any weekend adventures.