DESIGN | A Colourful Bondi Renovation
02 JUN
Luckily for interior designer Tegan Joan of Studio Joan, her client wasn't afraid of colour, with a penchant for olive green. The brief was to freshen up the Bondi Beach terrace and create somewhere they'd be excited to welcome friends and host parties in. Touches of olive green are everywhere - from outdoor furniture to kitchen cabinetry to the designer's favourite room, a reconfigured upstairs bathroom clad in green handmade tiles with carrara marble. Take the tour.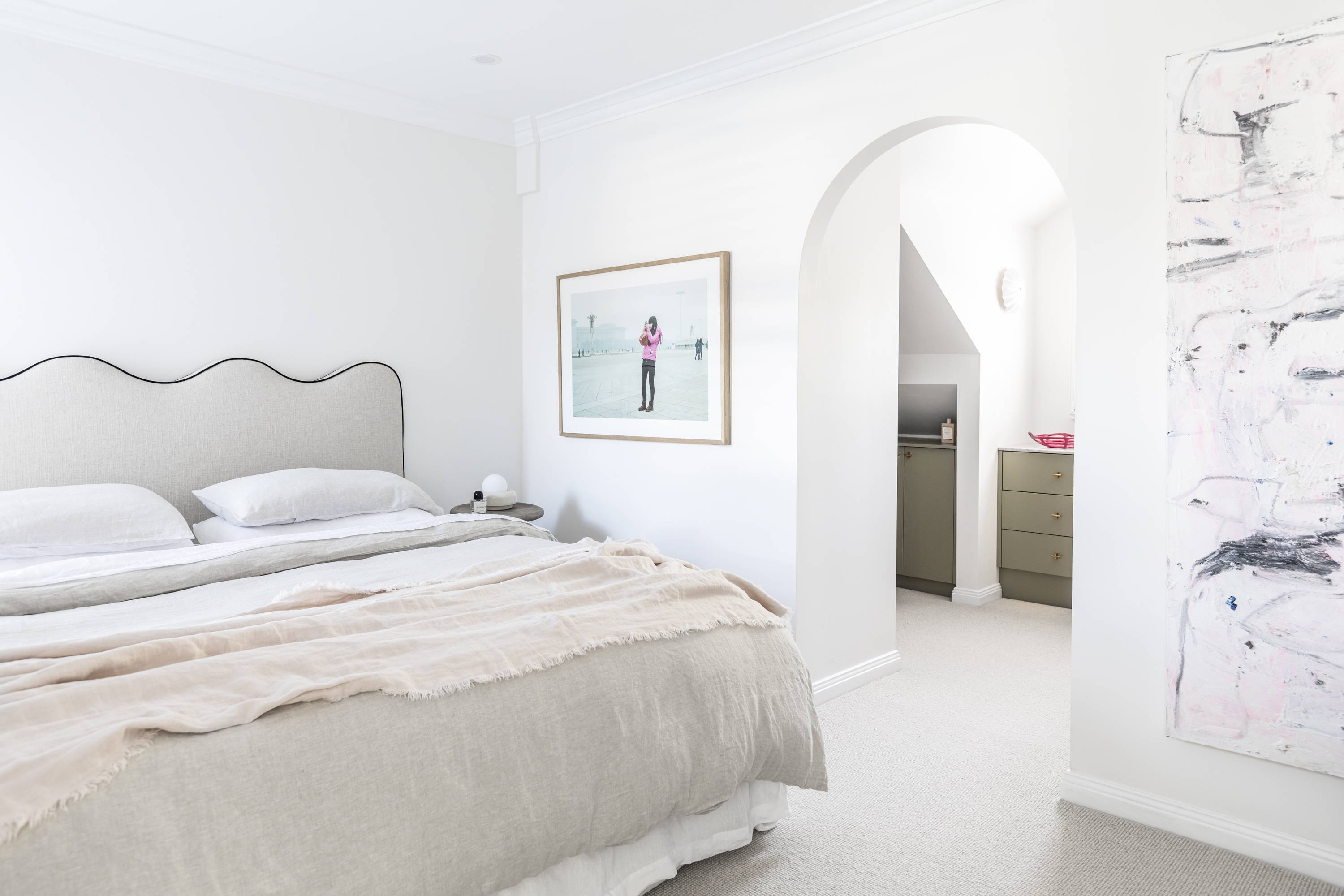 Tell us a bit about yourself and what you do?

I'm Tegan Joan, founder of interior design firm Studio Joan, and mum to two beautiful young boys, four and almost 2. I specialise in residential interior design and decoration and have always been interested in exploring how the interior environment can affect wellbeing - how elements come together to enhance the everyday. I work in both the residential space but I'm hoping to break more into the hospitality and retail space as my portfolio grows. My husband is an architect so over the years I have integrated his knowledge into my work, especially with spatial planning and the home's overall function.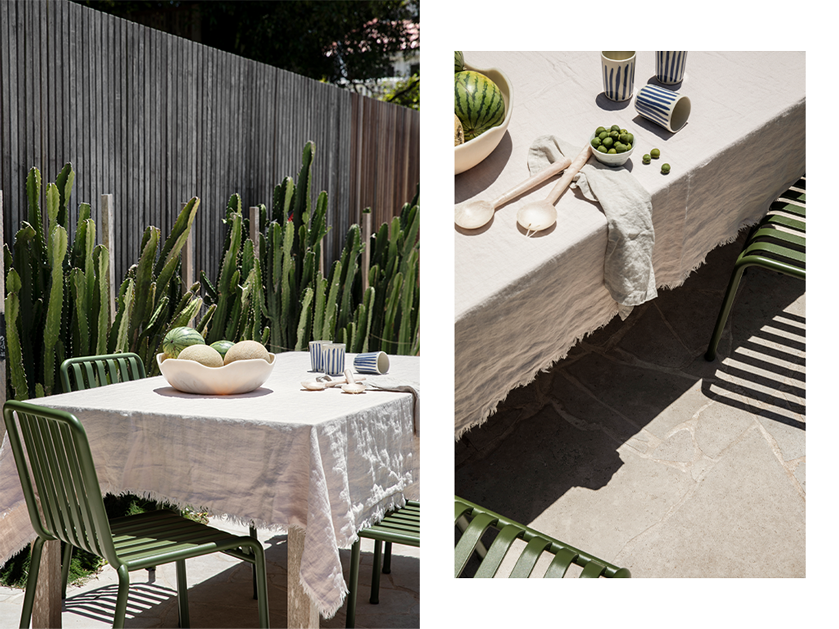 Our Freya Linen Throw in Blush styled as a tablecloth in the sunny courtyard. We love seeing how stylists use our versatile pieces in creative ways.
What does creativity mean to you and where do you source your inspiration?

Creativity has been embedded in me since I was young. My aunt is an antique collector, her apartment looks like a French boudoir. I always thought I might end up in fashion, but as the years passed, I went down a more traditional, 'safe path' - engineering - but that wasn't for me, I thought, how can I blend the creative and mathematical world together? Hello CAD (computer-aided design).
I source my inspiration mostly from coffee table books and online journals. I always pin and save my favourite images and details so I can refer back to them when I need to. I've always had a very visual memory and can pinpoint an exact image I saved 3 years ago, it's quite helpful. When I'm feeling blocked or stressed out, I go for a walk in nature. I'm lucky to live near the mountains and go on bush walks often, I find that really calming.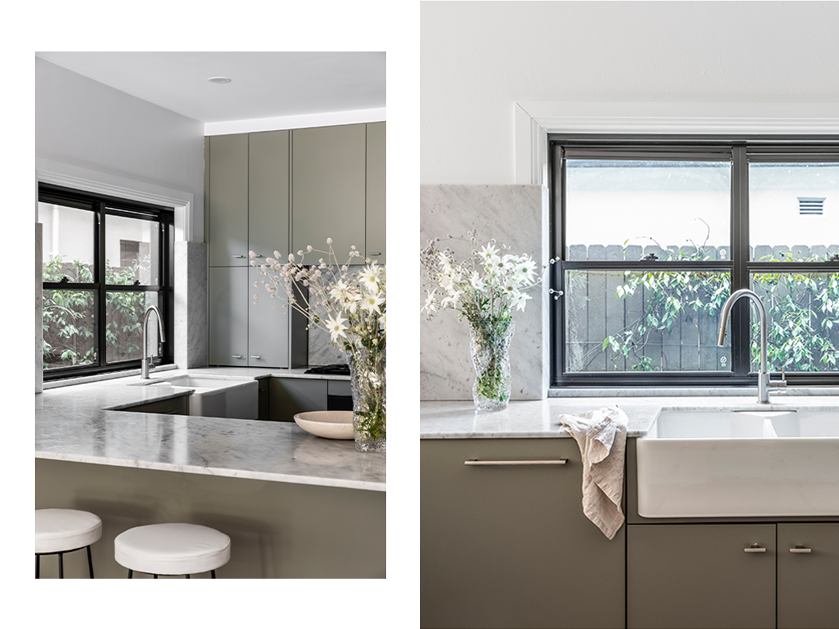 "I have always thought if your child comes home with a crazy artwork and they want to hang it on the fridge, will it look out of place? If the answer is yes, you have a house, if the answer is no, you have a home."
How would you describe the aesthetic of your practice?

What does creativity mean to you and where do you source your inspiration?

This is always a tough one because I'm so immersed in it, it's difficult to put it into words. The biggest thing for me is creating a space that makes you feel something. I'm drawn to applying colour and texture to spaces, layering materials to create a story – that doesn't necessarily mean it's eclectic, it can absolutely be tonal, but I never want a space to feel sterile and cold. I also love including some unique furniture pieces, whether sourced antiques or the clients' own items to make the space unique to them and not just a cookie cutter home they found on Pinterest – I always ask, will this still feel relevant and beautiful in 5 years?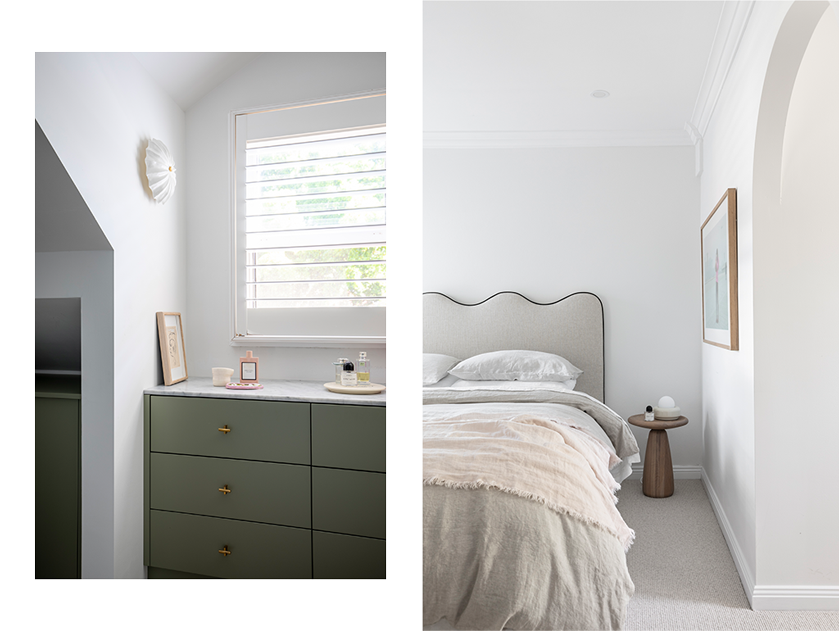 Tell us about this project, what was the brief and inspiration?

The brief was to freshen up the space and make it somewhere that Holly, the homeowner, could host parties and have friends around and be proud to show them her home. She wasn't afraid of colour and loves olive green. She already had lots of mid-century pieces so it was important that everything worked in an eclectic but clean way – we also didn't want everything to feel 'new' and shiny, rather earthy and warm. Holly has this amazing rug that sits under her dining table, inherited from her grandmother. I fell in love with it straight away. She also has a great collection of art and objects from her travels. I knew the home could handle colour, but it needed to be applied in a way that held space for her beautiful items.
What are some of your most loved elements?

Everyone always comments on the pink washroom, which is such a great pop of colour and surprise – we took inspiration from the homeowners Plastic Fantastic art piece by Dina Broadhurst. However, I think my favourite space is the upstairs bathroom. I love the green handmade tiles with the carrara marble and we
re-worked the space to house a larger bathroom and cupboard laundry. It was a real win.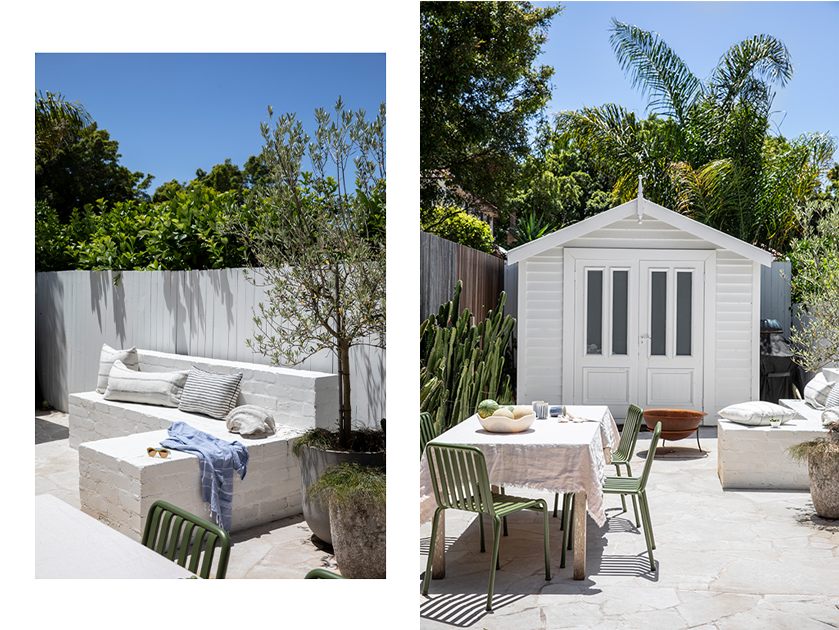 What architecture and design styles are you inspired by?

Gosh there are so many! Lately I've been inspired by heritage renovations that pay respect to the building's history and the juxtaposition of old vs new. I'm also particularly obsessed with 17th Century European design. Baroque Architecture is so beautiful and all-consuming (maybe I've been watching too much Bridgeton). As I'm a bit of a romantic at heart, a 19th Century Parisian or Swedish country house with high ceilings and old timber floors, yes please!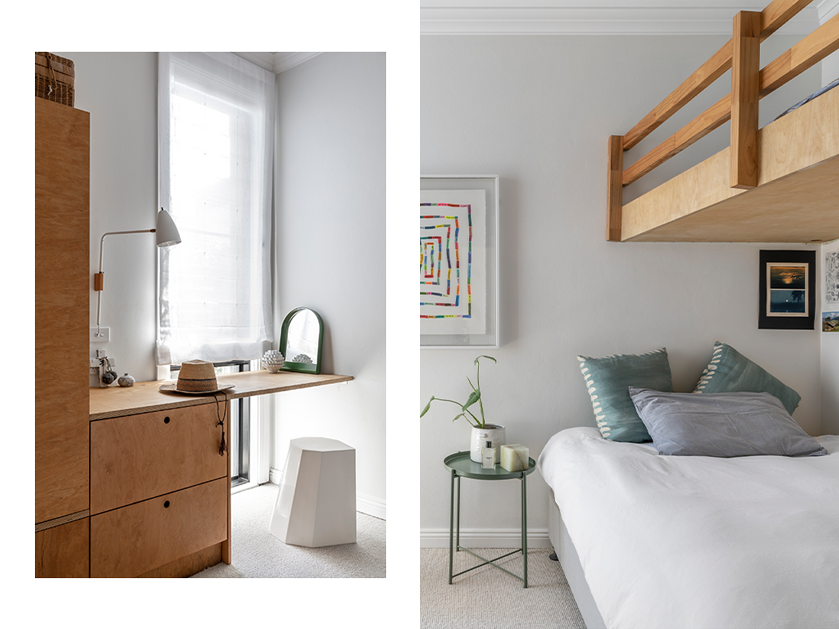 What makes a house feel like a home to you?

A space that is layered with items you have collected over the years. A place you can come home to and not worry about if your shoes are on or off, or if you put that mug of coffee down without a coaster. A home should be a place where you can truly relax and take your mind off the world. I have always thought if your child comes home with a crazy artwork and they want to hang it on the fridge, will it look out of place? If the answer is yes, you have a house, if the answer is no, you have a home.
What does the term 'luxury' mean to you?

I think luxury is something that we can harness in our everyday lives and that can help us stay grounded and humble. Waking up everyday with a freshly brewed cup of coffee is a luxury, the opportunity to gather around a table and share a meal with loved ones is a luxury, jumping into a cosy bed at nice with fresh linen sheets is a luxury – luxury is all around us, we have to choose to see and be appreciative of it.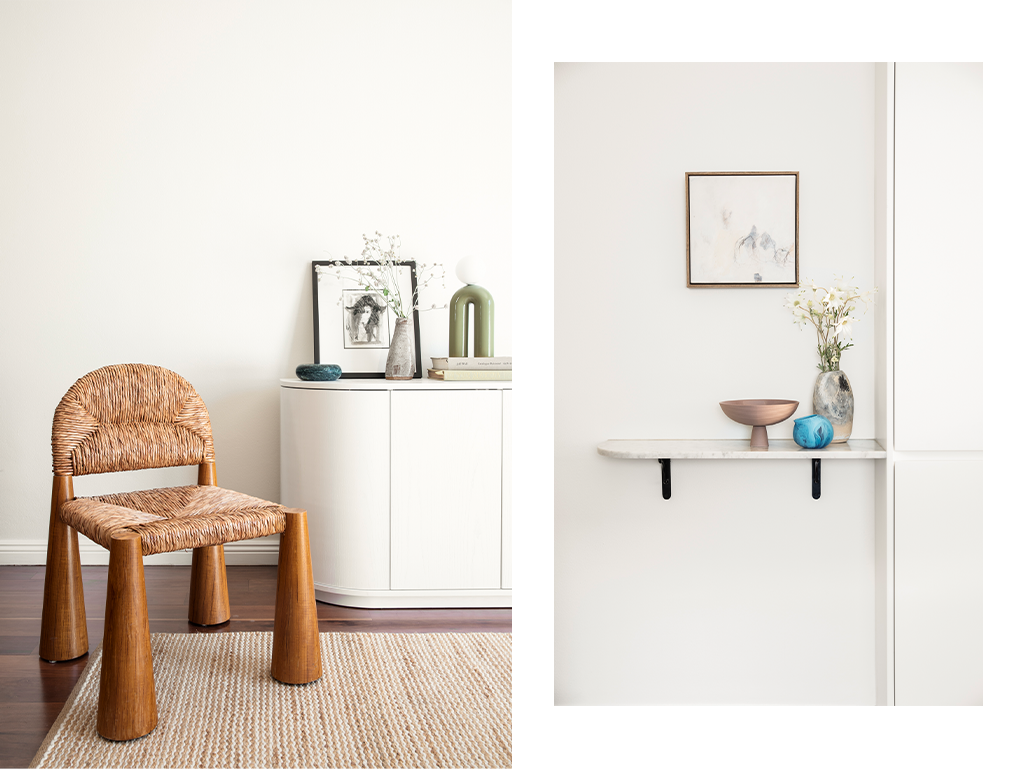 What are your daily rituals?

I start most days at 5am before the family gets up with an hour walk or Pilates session. I love being up before the sun, there is something about the stillness of the morning that's invigorating.
When I get home, I brew coffee to sip on while I make breakfast for the boys. The rest is more of a routine than a ritual but I do love making and styling the bed each morning, something about a clean bedroom makes everything feel ok. We get really beautiful sunlight in our room in the mornings, especially in winter, so it's quite relaxing.
Call us oldies at 30, but each night after the kids go to bed, Chris, my husband and I sit with a cuppa and usually some choccie and talk about the day, work and life - it's a really nice way to reconnect and wind down before bed.