STYLING | 7 tips for easy entertaining
21 JUN
We take entertaining friends and family very seriously, therefore we leave nothing to chance and only trust the pros. This is why we turned to Melbourne based blogger and stylist, Lei Lei Clavey. When it comes to styling and putting on a classy spread she is a seasoned professional.
We all avoid hosting because we know how much planning and effort goes into it, before and after. But it doesn't have to be a pain, keeping it simple and sticking to some basic, yet winning concepts can make it feel a lot less overwhelming.
We asked Lei Lei for her top tips on how to make your next soirée an effortless success.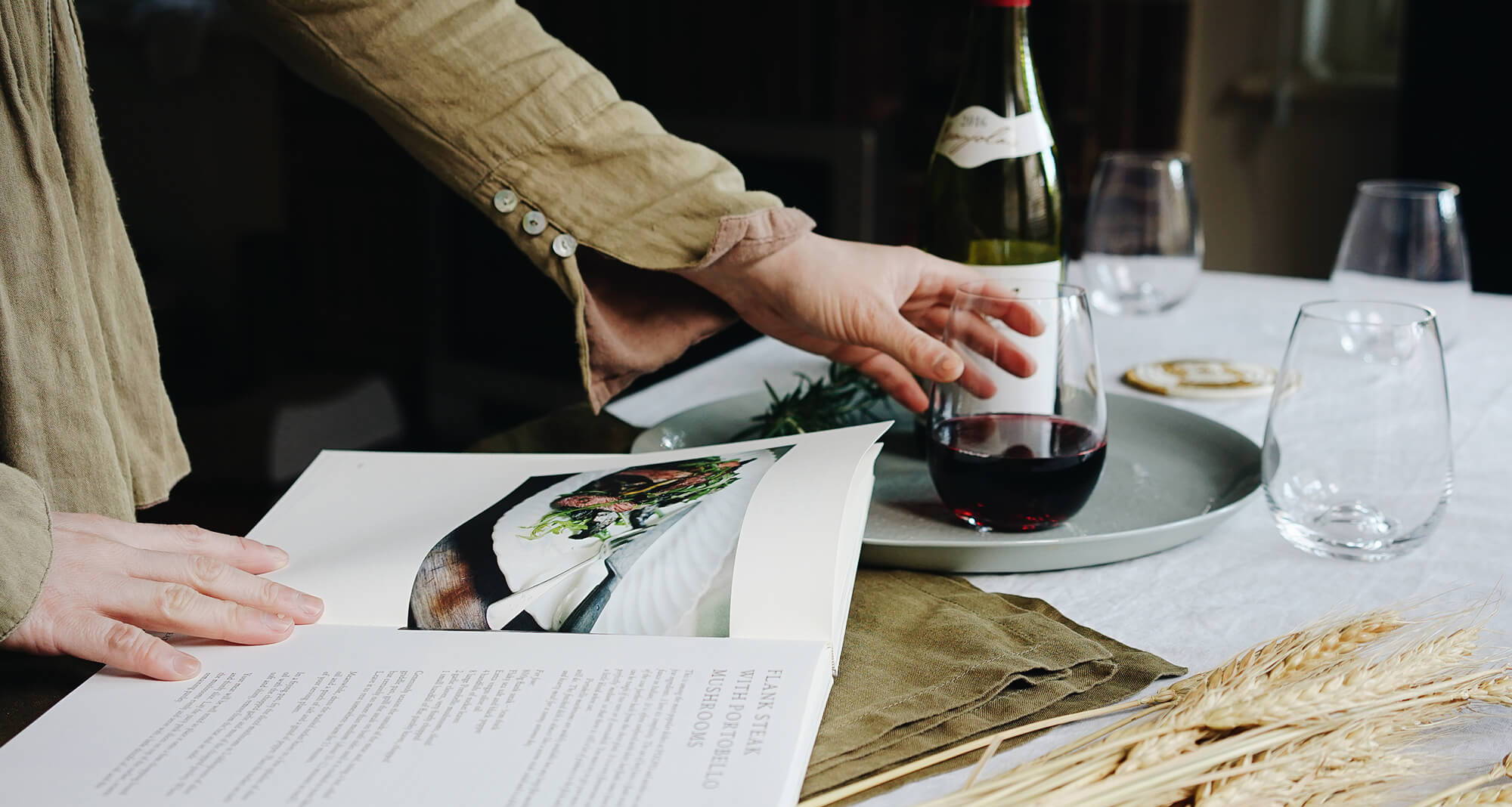 Image courtesy of Lei Lei Clavey
1. Wet the old whistle!
As soon as you greet guests, offer them something to drink. I love to have my bar cart set up with a few drink options (including wine, champagne and beer on ice and a cocktail) ready to go.
2. Location, location, location.
Make sure refreshments are readily available. Place the bar cart/drinks table in a position so guests can help themselves thorough-out the gathering, making everybody feel relaxed and at home.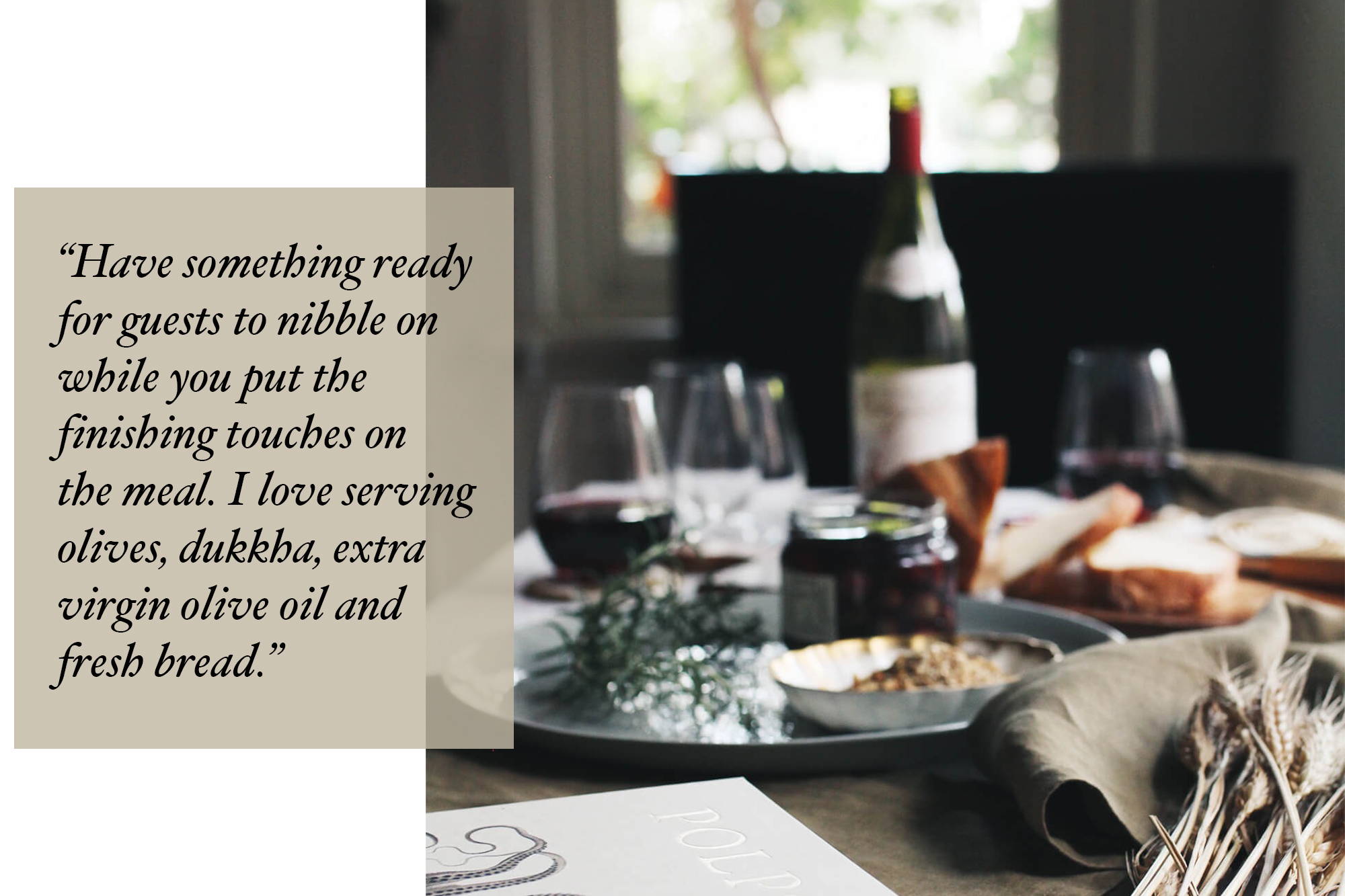 Image courtesy of Lei Lei Clavey
3. Laid back.
Make guests feel comfortable by not having anything too formal unless the occasion calls for it. If it's casual drinks and nibbles, I like to sit on a pillow on the floor - this makes the vibe more relaxed and guests feel at ease.
4. Chow down.
Have something ready for guests to nibble on while you put the finishing touches on the meal. I love serving olives, dukkha, extra virgin olive oil and fresh bread. It's a simple crowd-pleaser. Another is my guacamole: avocados (tip: mash it with a whisk), garlic, lashings of lime juice, coriander and a tablespoon of sour cream. Serve with corn chips.
Image courtesy of Lei Lei Clavey
5. Table top.
Set the table mixing and layering colours and textures. I've styled my table here with linen napkins in olive and linen table cloth in smoke grey. Linen is a beautiful and durable fabric for all year-round use, and only gets softer and smoother over time.
6. Go with the seasons.
Seasonal flowers and foliage are also a lovely touch. This time of year the Camelias are blooming outside my window so I snip a few from the garden and place them in small vases on the table. Otherwise a branch of some greenery from the local park does the trick and needs minimal maintenance.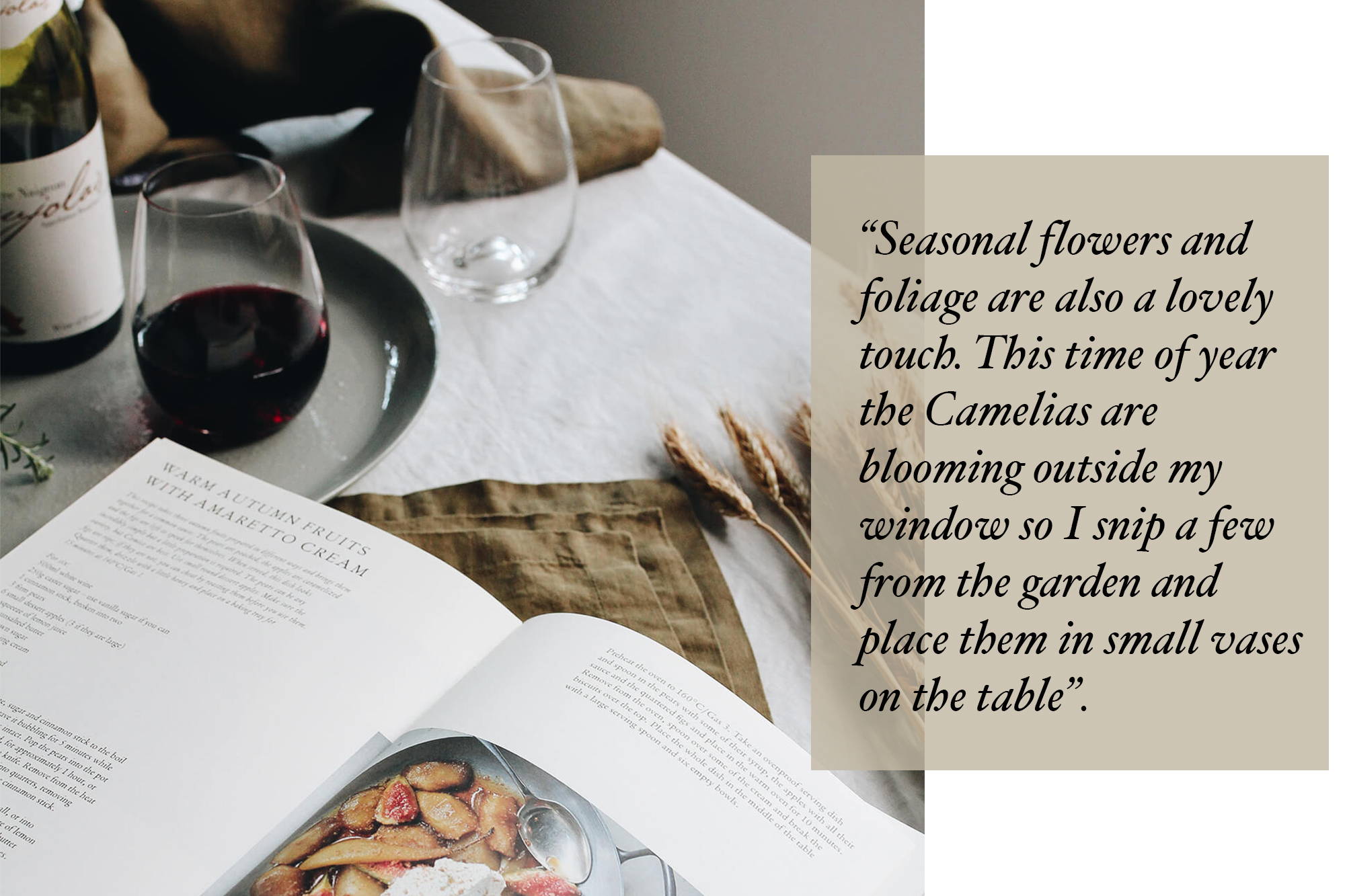 Image courtesy of Lei Lei Clavey
7. Nice and clean!
Do you stress about having the house completely spotless before guests come over? I do, which is a contributing reason for not entertaining as often. A quick run around the house with the vaccuum to pick up the tufts of cat hair does the job. It is also easy to shut doors to areas of the house that aren't so nice to look at (that's my true party trick!).