RECIPE | Pizza Bianco
22 MAR
Written and styled by Lucy Tweed. Photographed by Con Poulos.
From as early as I can remember, my hands have found comfort in the more rugged texture. Of course, the glamour of fine threads and sleek finishes appeals to me, but life will age all, and natural things should reflect this.
My mum's hands, dry and warm from gardening. Timber chopping blocks, feathered from years of relentless attack. Barnacled sandstone, worn back by sea-salt, that I reach for when climbing from a tide pool. And always linen napkins to mop, dab, soak, dry, wrap and protect.
Similarly, it ignites emotional journeys down lanes so thick with memories, I am transported. The "everything" bagel is a Soho street passport in the city that never sleeps.
Perfectly boiled dough, crusted with whole seeds and spices before baking. Always eaten slightly toasted with a schmear of cream, maybe some lox or cucumber. I have craved tearing into one of these proper bagels for years but then realised it was really the seed combination I was after.
I've mashed it with a pizza to feed a few, stayed true to the cream cheese pairing and created a Pizza Bianco using Crème Fraîche instead of a tomato slap. The process is easy. Best done with friends, Palomas or margaritas being poured, plenty of napkins for messy hands and a playlist that will conjure all the feels.
Ingredients
Makes 2 large pizzas
Pizza dough
4 cups pizza flour
2 tbsp sea salt flakes
7g (1 sachet) dry yeast
2 tbsp of extra virgin olive oil
1.5 cups lukewarm water
Topping
150ml crème fraîche
Boiled potatoes with skin on, roughly crushed
1/4 cup extra virgin olive oil
2 garlic cloves, crushed
2 tbsp chives, finely chopped
2 tbsp oregano leaves, fresh
100g mozzarella, finely sliced or grated
Parmesan, finely grated, to serve
Fennel, shaved thinly, to serve


Everything bagel mix
Makes 2 cups
1/3 cup garlic granules
1/3 cup dried onion
2/3 cups white sesame seeds
1/3 cup black sesame seeds
1/4 cup fennel seeds
1/4 cup poppy seeds

Place all ingredients into a jar and toss well. Store in the pantry for up to 3 months.
Use on salad, pizza, sandwiches or anything you wish.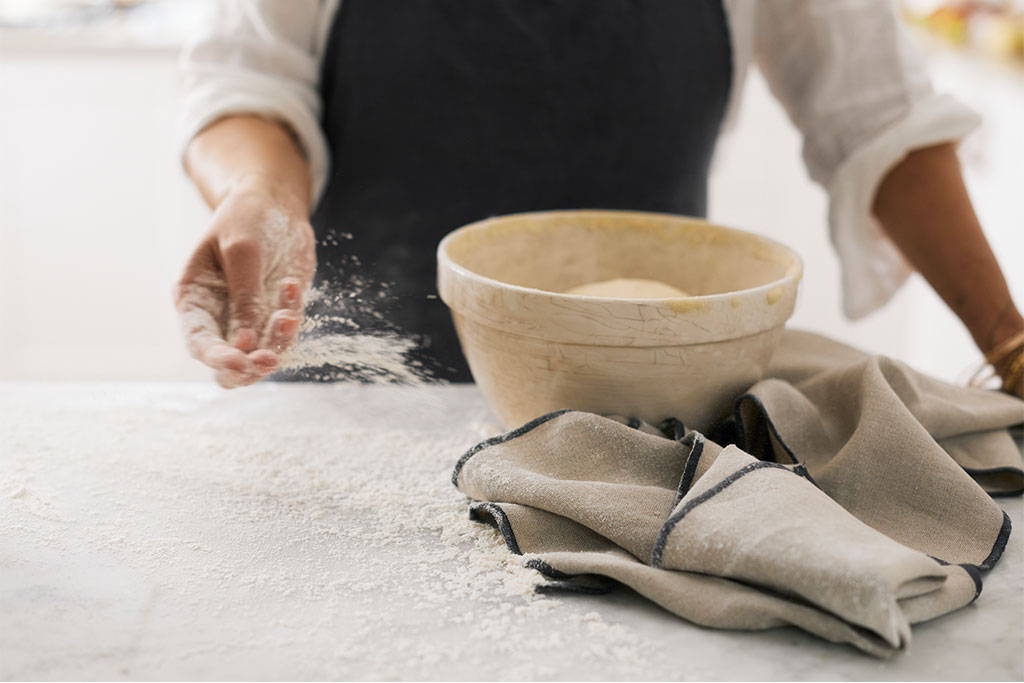 Method
1. Preheat the oven to 250°C.
2. In the bowl of a bench mixer with the dough hook attached, place the flour, salt, yeast and water and mix until dough is formed and is soft and stretchy. Approximately 15 minutes.
3. Place the dough into an oiled bowl covered with a damp tea towel and rest in a warm place for 1 hour until it has doubled in size.
4. Preheat a large baking tray.
5. Roll the pizza dough into a rectangle and place on the hot tray. Brush the edges with oil and scatter the 'everything-bagel' mix around the edges.
6. In a small mixing bowl, toss the potatoes together with oil, chives, oregano and garlic. Season really well.
7. Spread the pizza base with crème fraîche, scatter with mozzarella and potatoes (overlap the mozzarella and potatoes so you get crispy spuds and brown cheese).
8. Cook for 15-20 minutes, or until the base is crispy and the cheese has melted.
9. To serve, top with shaved fennel and grated parmesan.