INTERVIEW | Lucy Tweed
01 AUG
Lucy Tweed has been on our radar for a while through her work as a food stylist and Cool Edie. But her latest venture, Every Night of the Week, is one more that we are very excited about.

Delivered conveniently via her Instagram feed, Lucy shares the meals she creates at home for her family of 5. Mouthwatering images combined with a "how to" caption in her unique voice, this is one to inspire and make you laugh, and we guarantee you will hungrily await the next instalment just like us. Read on for our interview with Lucy about her feeding rituals, and a recipe she created just for us.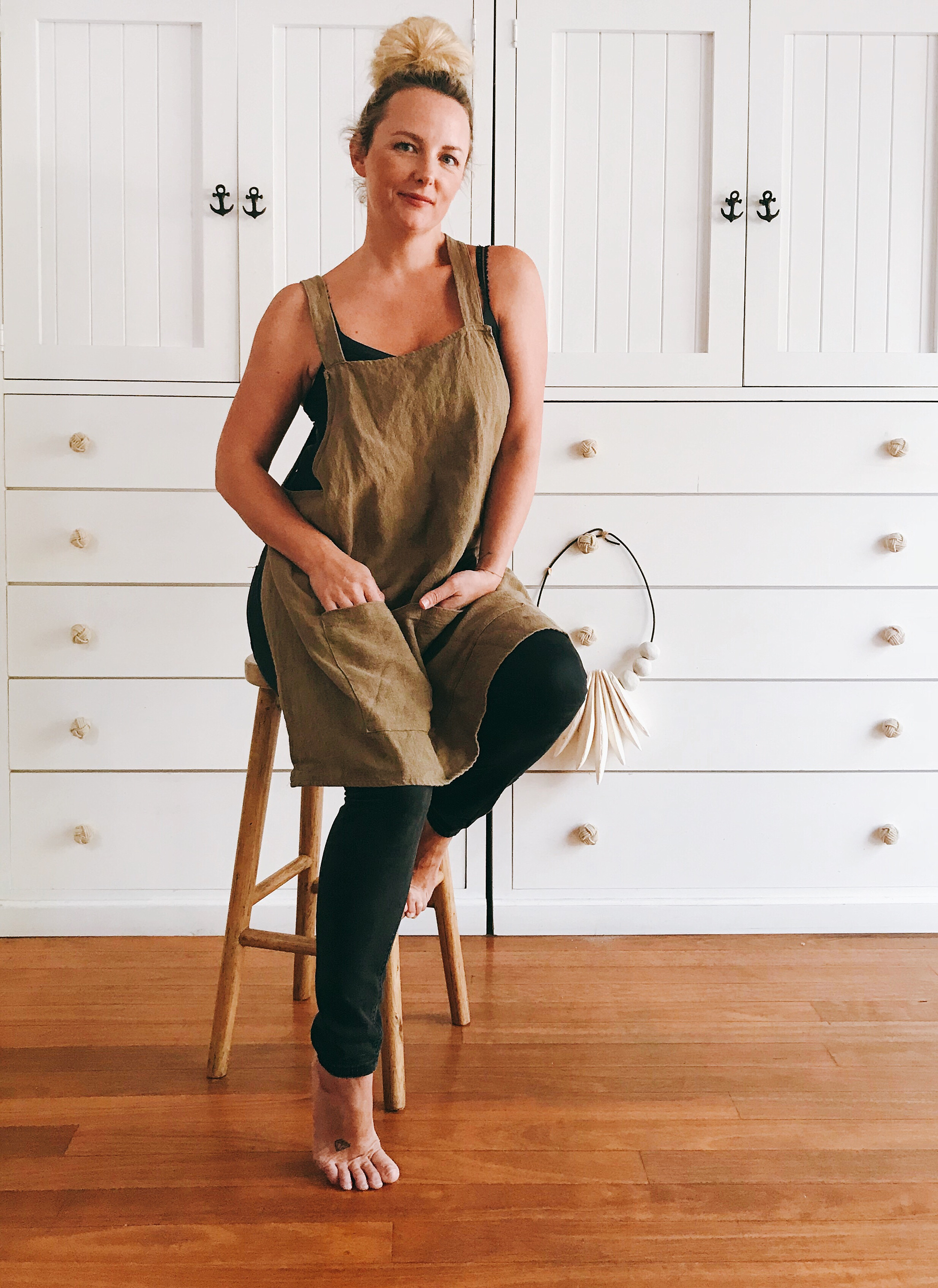 Photo: Lucy Tweed
Can you tell us a little bit about yourself and what you do?
I'm a stylist, of all fields, but stills food and lifestyle is essentially where it's at for me.
A fresh concept for a job gets me giddy. The idea that you can create an image that drags the viewers eyes around the page in what seems a mad fashion but is ultimately a perfectly choreographed dance by the art director, photographer, me… it's cool.
And even cooler when you find someone has done that to you!
Can you talk about your new Instagram side hustle ENOTW?
Working with food all day, but not actually cooking it inspires me to come home and cook.
Cutting an onion is my happy place, especially after a long day.
For so many people too this is a time they are focused, quiet, screenless.
I may not post Every Night Of The Week, but it's certainly happening.
I also have this constant stream of narrative in my mind that's somewhere between street urchin to hippy child. I thinks it's there to balance out all the constant visual perfection I strive for.
It's often swearing or mispronouncing words, using slang.
Every Night of the Week gives volume to that voice too.
I'm not sure where it's heading yet… but I have a few things in mind so defo put a deposit on a seat now.
What does every night of the week look like in your family?
A bit shouty, very fast paced, lots of kissing and snuggling. Some where between 5-7pm an insane amount of interaction and activity occurs.
There are 3 kids (a dreamboat, a gnarly gutter pirate and a puffy little pillow of pretty), 2 working parents (it's like good cop bad cop but more beauty and the beast), the happiest hound in the world with a whip for a tail.
Heat map our movements and we're probably rewriting the chaos theory.
Do you have any rituals as a family that you live by?
The weekend slow - wait for the beasts to break out of their cages and find you on these mornings. The nicest sleepiest cuddles that soon turn to knees and rumbles.
Eating dinner at the table, or the floor or the bench - it's a very rare day we eat with the tv on or not looking at each other. It's not always pleasant but we are always connected.
Use a natural fabric napkin - Fo'real not a staged response over here.
I grew up with cotton napkins, they were laundered, they got softer. Not everyone is that chill with wiping their face on beautiful linen. They should be, It's one of the most sensible and luxurious things in life. Embrace the jux of it.
What does creativity mean to you and do you have a creative process when you work?
I like flow. Probs why I lasted two minutes doing a chefs' apprenticeship - you got to be down with volcanic eruptions for that.
Yes definitely flow. Fast, slow, changing is fine but fluidity.
I was a gold class procrastinator when I was a kid so I find a huge amount of joy in turning that ship around. For me my process begins with looking at every piece of information I have beside the perfect outcome I want, and working out how to get there smoothly.
I started using this process as a way to remove the dreary stuff from the fun stuff, but now I love both all the stuff.
If you have a moment to yourself, what do you do?
Yoga. My mind races constantly. What can I fix. What can I make. When am I seeing my friends next. It's like a f**king sudoku. I did yoga for years without getting it and it's sounds so stupid but honestly I did it for a week at dawn and dusk with my mum at an ashram in bali and it clicked. Although, do yoga at dawn or dusk with the sea nearby and a cow with bell casually tounging the dewy lawn with palms swaying above and the air scented with rice and you'll get it too.
How do you unwind, slow down at the end of a busy day?
Cook.
It's really that simple for me.
What are your best tips for making weekday meal time easier/more enjoyable/less of a chore?
At least once a week just make one thing for dinner. You don't need 700 things on your plate every night. Sometimes we all just have chicken wings, a poached egg on toast, or a bowl of broccolini garlic and oil.

Plan your dinners on the weekend. I probably only adlib one night a week and it's hard.

Get more adventurous on your days off… not during the work week, until you're comfortable with the flavours and methods.

Make a herby slurry in oil with garlic, mustard, chilli, capers, lemon zest etc. keep it in a jar in the fridge, add it to anything that needs a lift. Pasta, meat, salad, mayo.
What are your top 5 go-to recipes?
Flat roast chook with a salad dressing for flavour

Spaghetti w anchovy, oil garlic, parsley, and lemon juice. (parmy and chilli on top)

Bbq lamb chops with a super zingy crunchy hybrid greek salad

Vietnamese slawry salad with all the crunchy and zing

Sticky wings, dumplings and greens
Thats this week anyway ;-)
If you could only eat one thing for the rest of your life what would it be?
Spaghetti, garlic & oil.
Would you like to recommend something (can be anything, a book, a habit, a form of exercise, a movie, a wine, a weekend activity etc..)?
Walk around Narrabeen lake.
Walk out to the gap headland past Watsons bay.
Walk out through the national park to Henry head.
Walk up to the lighthouse at palmy.
Always buy the rose from cote de Provence.
Always kiss your family good morning and goodnight.
Oh, and try mustard greens next time you make something asian. It's like Chinese sauerkraut. I LOVE how food translates!!!!
Crispy Pork with Noodles & Wombok
"Not at all born with a spoon in my mouth but always a napkin on my lap. Same as my kids. If you really love eating then the whole experience should be a sensory pleasure. You should like the sound of your plates, the thickness of your glassware, the tines on your fork and the linen on your lap. Mix that in with texture, flavour, temperature and smell and you pretty much have a Times Square level of activity going on.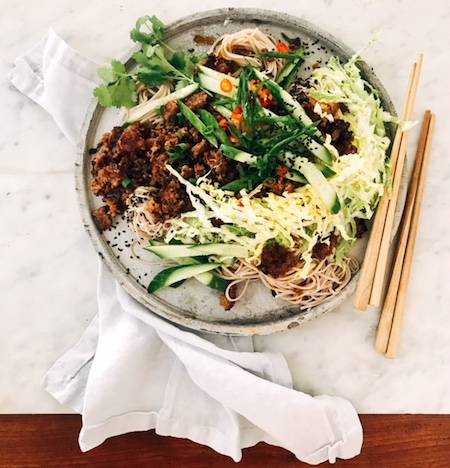 Photo: Lucy Tweed
This one works for all that theatre:
Pork mince mushed w hoisin, that fermented black bean garlic biz from a few episodes ago, sesame oil, soy aaaaand secret Santa: cornflour. Mix it well, *sprinkle* onto a tray - stupid term when referring to a paste like texture but don't spread it
Break up/make mini chunks. Grill for a tenner. Then pour off the juices - INTO A JUG NOT THE BIN!!! Add a Splash of Chinese cooking wine for the jazz hands. This is the boss of this dinner.
Whack the pork back under to get a bit of extra texture happening.
Somewhere back amongst that boil some water, blanch some soba, toss in sesame.
You now have hot, salty, chewy, and slippery covered.
You need crunchy, icy and chilli.
Wombok is the capt crunch.
Icy cukes w salt vin garlic and chilli bring it home.
Shallots and cori always welcome guests."