INTERVIEW | In The Roundhouse
31 JUL
We love entertaining at home as it's the perfect way to enjoy a good meal with family and friends. We're all about bringing colour and adding special touches to our table so we were excited to hear about In The Roundhouse, a lifestyle brand offering beautiful hand-painted plates. In The Roundhouse was launched late last year by two friends, Alyce Tran, co-founder of The Daily Edited and Brooke Bickmore, editor of David Jones Magazine. We had the pleasure of speaking with the both of them about the creative process behind their brand and how they bring meaning to their mealtimes.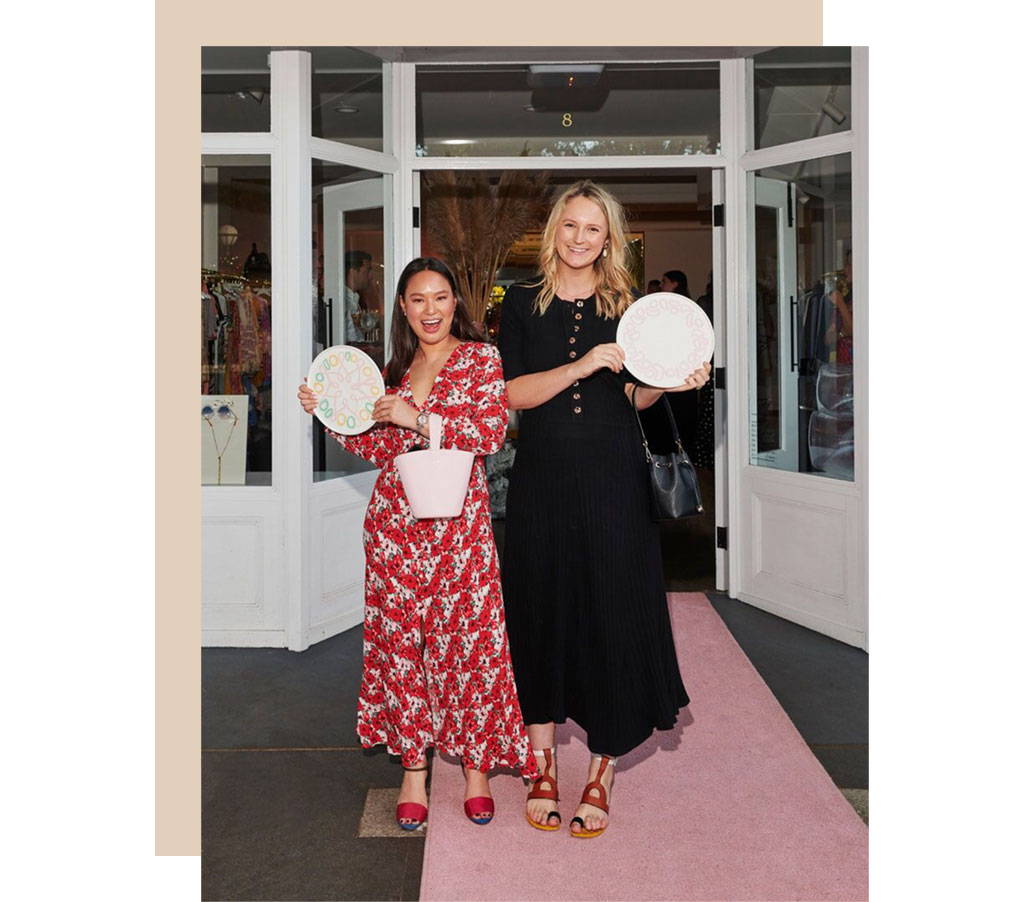 Alyce and Brooke at their brand launch.
Tell us a little about In The Roundhouse and the inspiration behind it.
In The Roundhouse was dreamt up with the vision of creating mix and match tableware that instantly lifts a tabletop in unique and colourful prints. We really wanted this to also be at an attainable price point so you can add a few styles to your collection to change the mood of each table setting.
The designs on your plates are so unique and fun. What's your creative process like?
Brooke: Alyce is absolutely the creative genius behind our designs! She has an innate ability to know what people are going to want next and what's buzzy. We throw around ideas and finally land on a direction for each collection of mix-and-match designs. We start with a wide approach and edit back from there once we've seen the many iterations of what direction a concept could take.
Alyce: I am addicted to my phone, the internet and consuming media at large, I'm always making moodboards and putting colours together for both The Daily Edited and In The Roundhouse - I've probably got some efficiencies going on here. From there we develop patterns that I run by Brooke as with this new venture I want to ensure the pieces we make have broad appeal and working with Brooke gives the product a different point of view - you've got two people working on the product to create a bit of diversity!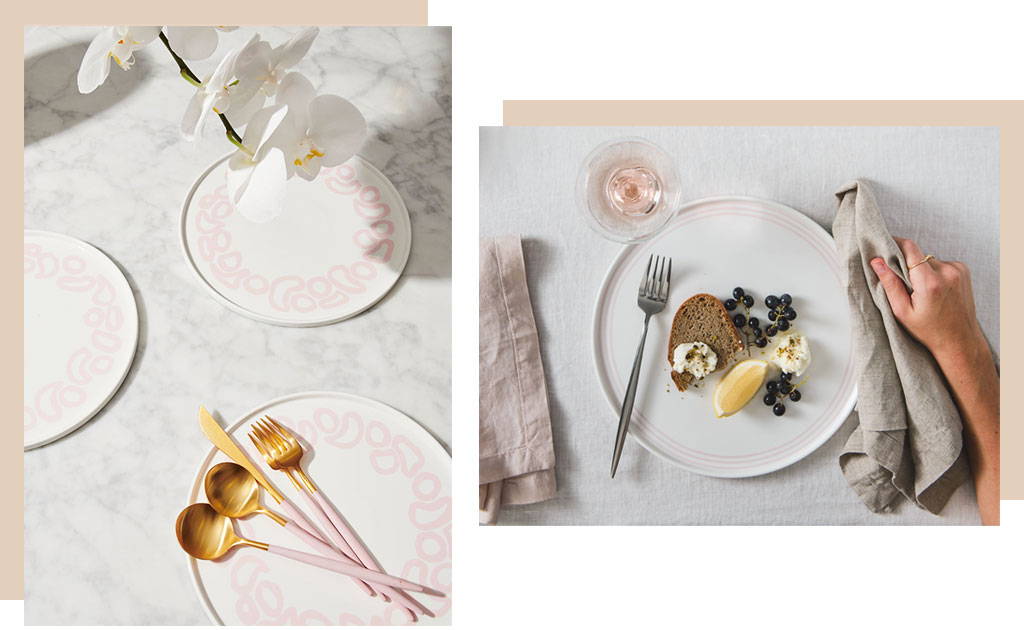 You both have very successful careers outside of In The Roundhouse, how did you find time to start a new business and how do you manage the juggle now?
Brooke: It was a very slow burn to begin with. Alyce and I used to meet on weekends over coffee to keep things moving - working on designs, sampling, website design etc - and it wasn't until we were ready to launch with product in the country that things really got busy! We launched ITR four weeks before I went on maternity leave so my time has never been more stretched but I'm just starting to learn it all comes down to priorities and using moments when you have them rather than trying to find a big block of time to get anything done.
Alyce: If anything, having another brand has re-energised me! I don't yet have a family so I have plenty of time to do things after work so to speak!
How do you unwind, slow down at the end of a busy day?
Alyce: I love to watch an episode of easy watching TV - I love Younger, Modern Family, The Bold Type, Dynasty.
Brooke: I'm doing exactly the same - TV and a glass of shiraz.
In a time where takeaway food is so convenient. How do you bring meaning to mealtime?
Brooke: Even if we're eating takeout, my partner and I try to eat at the dinner table as often as possible without phones or the TV blaring. We're all so busy and glued to our phones during our work lives that taking a pause to reconnect and enjoy a meal together has never felt more important.
Alyce: I live with my younger sister Caroline, she prepares meals for us twice a week, I act as the sous chef, we love styling our table and sitting down to our meals (after instagramming it of course) it's a nice way to spend time together and catch up.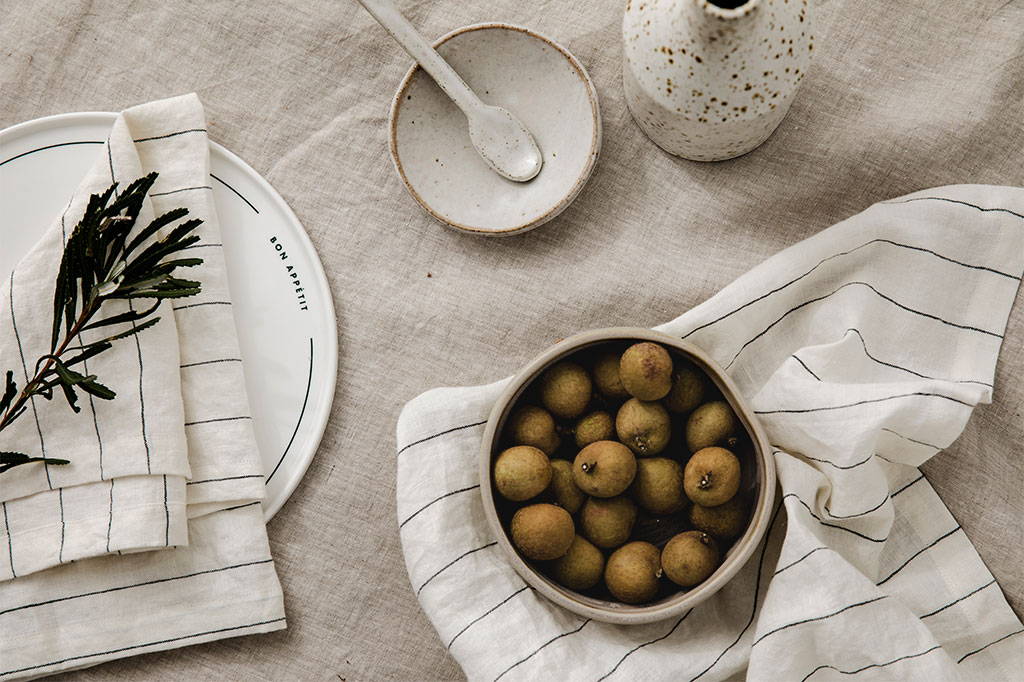 What kind of atmosphere do you try to create when entertaining?
Alyce: Relaxed, interesting and visually appealing. I like to use candles, random objects that talk back to a theme and lots of flowers!
And how do you go about setting this mood?
Alyce: A bit of a rambling table setting, a mixed table setting (one of the reasons I was so keen to work on In The Roundhouse was that I was finding it difficult to find designed and colourful plates for events we were putting together for TDE!) and a delicious rather than "fine dining" kind of a menu!
What is your go-to dish at the moment?
Brooke: I'm very into home cooking right now and my NY Times Cooking subscription gets a good workout. Right now, I'm making a lot of pies.
Alyce: I'm always into anything that incorporates a potato, preferably roasted.