HOW TO | Styling flowers inspired by Mustard and Fawn
04 SEP
Carla and Jess were freelance florists when they first worked together on the wedding and event circuit. With different styles - Jess is naturally drawn to more traditional florals, while Carla embraces the unique - there will always be an aesthetically-pleasing arrangement at their store, The Ivy League, located in Sydney's north shore. We collaborated with Jess and Carla to create a bespoke bunch of blooms inspired by our latest collections, Mustard and Fawn, and got Carla's top tips for recreating it at home.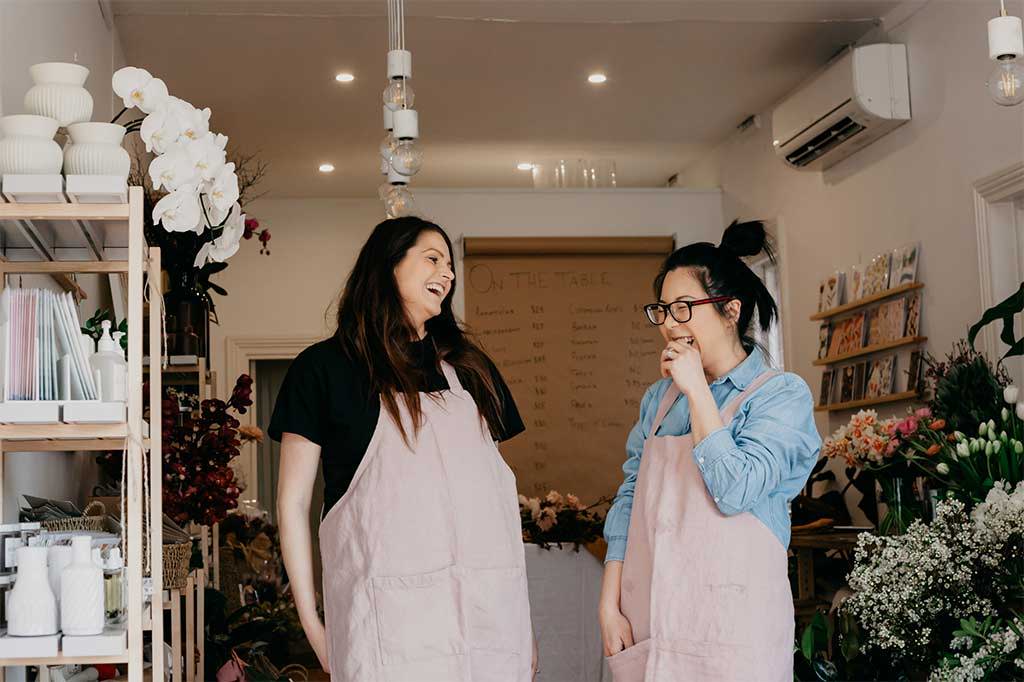 Where do you source inspiration for your floral designs from?
Fashion and colour trends are a huge source of inspiration when it comes to working with flowers, as well as using flowers and foliage that are in season. I definitely try to buy local and seasonal wherever possible. This way you're guaranteed to find some really cool things that are always super fresh, whilst supporting local growers.
Are there any flowers you particularly love to work with?
I love all the weird and wonderful things, but I'm especially drawn to Australian Natives. The colours, shapes and textures are so beautiful and interesting. Even after all these years I can still go to the markets and discover things I have never seen before.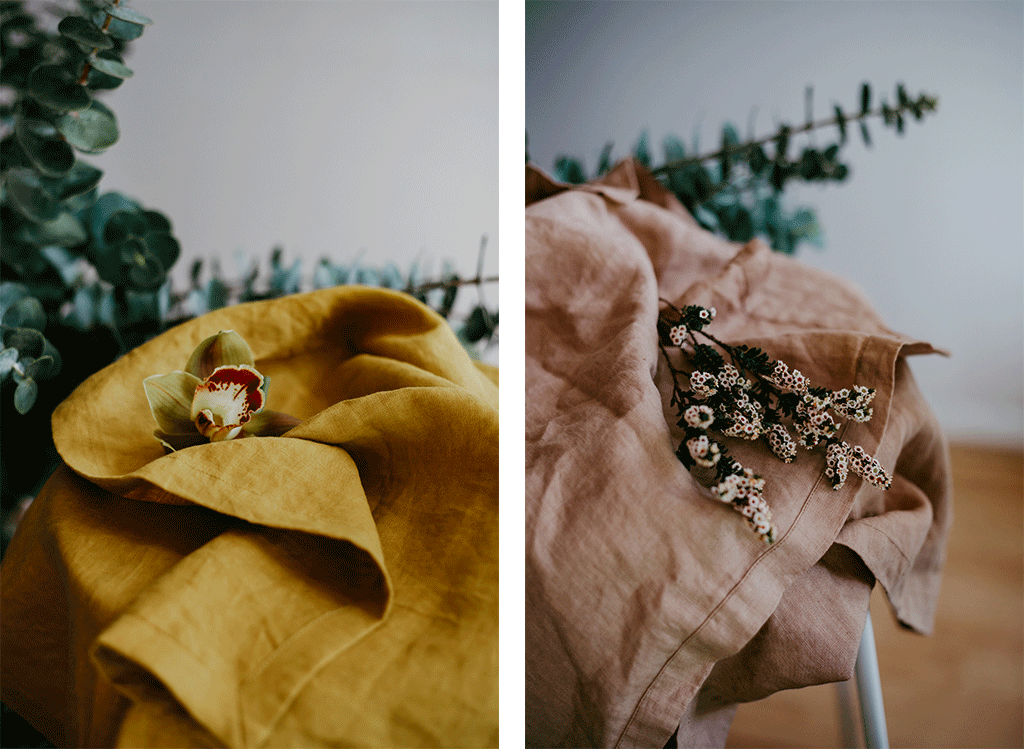 Do you have any tips for making your blooms last longer?
Change the water! Your flowers love nice fresh clean water, just like we do. Re-cutting the stems especially when you first bring them home is also a must.
What flowers are in season at the moment?
Right now we are coming into spring so all the most amazing things are out and about. For the floral lovers there are ranunculus, anemones, tulips and blossoms, and if Natives are more your vibe all the beautiful wildflowers such as flannel flower, everlasting daisies and Geralton wax are hitting the markets.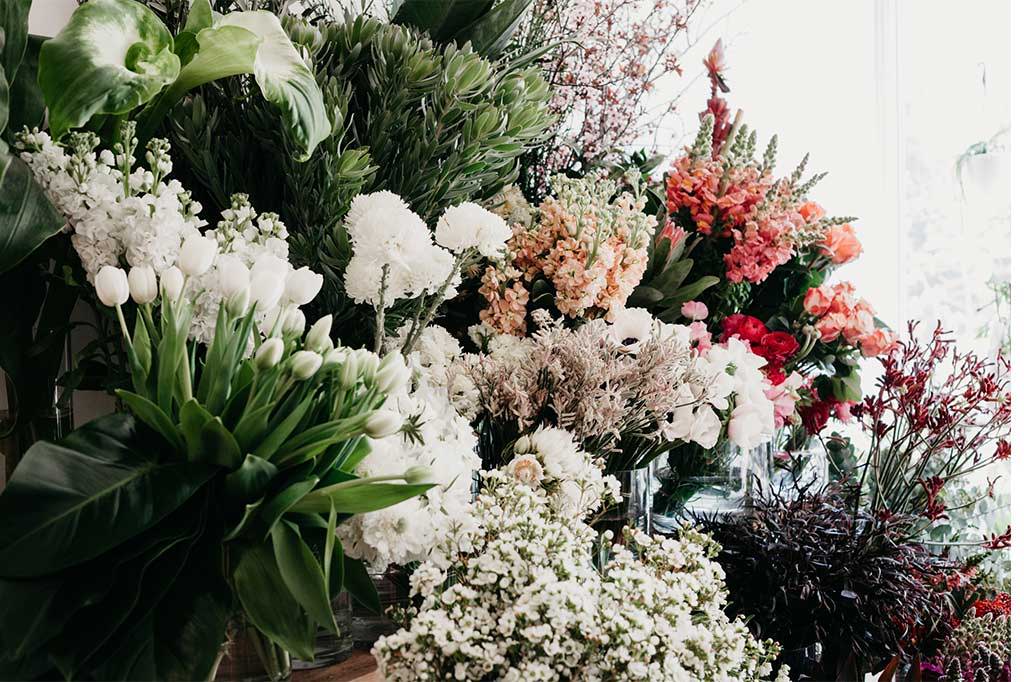 What are your three top pieces of advice for designing a beautiful floral arrangement?
Number one would be to prep your flowers first. Strip off any unwanted foliage, take off any thorns and give everything a bit of a trim before you start – it's so much easier than trying to do it mid-arrangement.
I also recommend choosing flowers and foliage with different shapes and textures. If all your flowers are big and round then you lose the shape of the arrangement. Contrast is key.
And finally… forget the rules! It doesn't matter if you have some things that are really short and then some that are tall, or if you want to put blue flowers with orange flowers. Experimenting is all about having fun and being creative, sometimes that's when you make the best things.
Take us through your process of styling the bunch inspired by Mustard and Fawn.
For this arrangement I chose the following florals: quicksand roses, giant chrysanthemums, whipcane, thryptomene, a cymbidium orchid, phyllica and some ornamental plum foliage.
1. Prep the flowers! I've stripped all my unwanted foliage off and dethroned the roses. I have also reflexed the roses which is a technique to flick out the petals. It makes them look a bit extra!
2. I started off with my Fawn tones and the biggest blooms first - the giant chrysanthemums and then added in the roses. I recessed some of the flowers and had others sticking further out to add depth and a sculptural element to the bouquet. Then I added in a big handful of whipcane.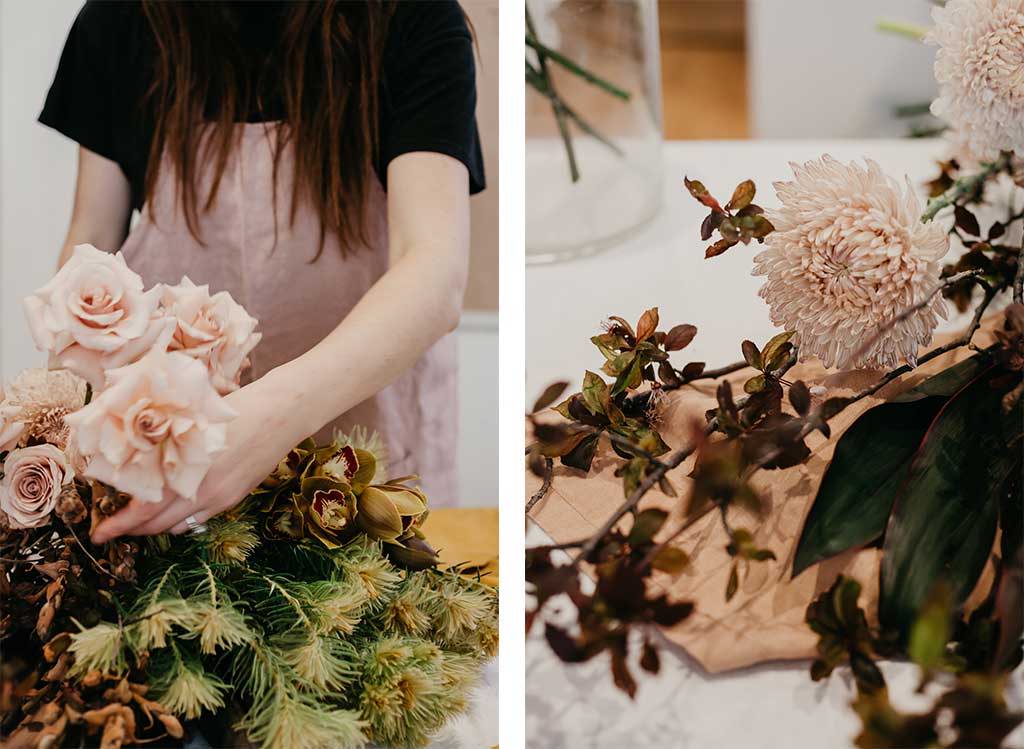 3. Next I added the Mustard-inspired phillica to the back and the cymbidium orchid in the front.
4. I always add the foliage or unusual sculptural element last, in this case the ornamental plum branches and a beautiful burgundy coloured cordyline.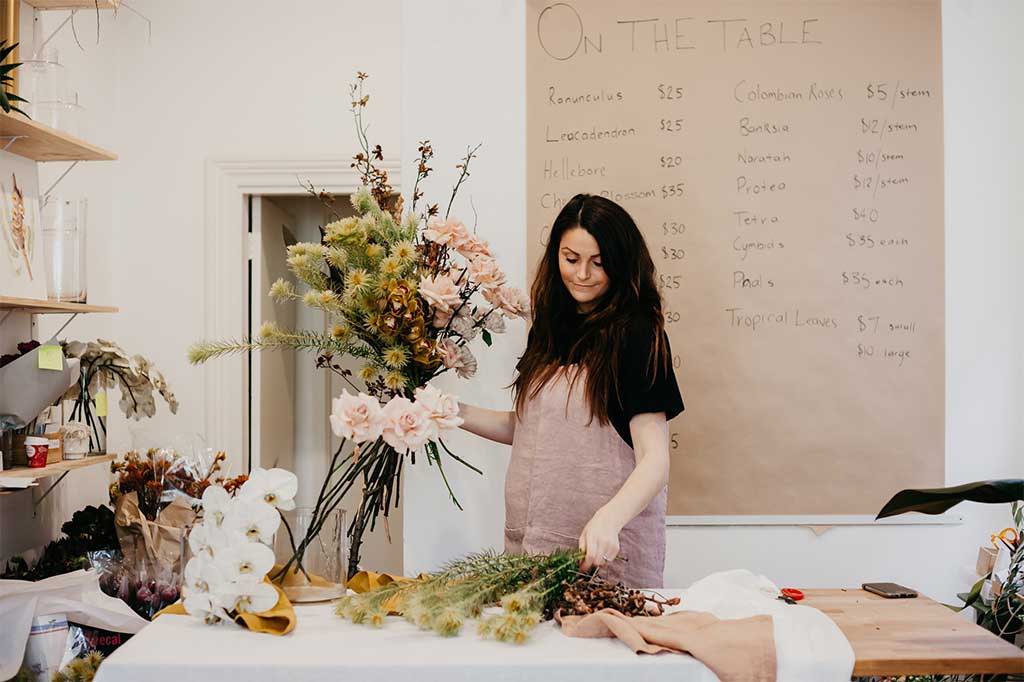 5. It needed a little something extra so last minute we added the creamy fawn coloured thryptomene down the front and just like that you had a fabulous Fawn and Mustard inspired floral creation!
How important do you think it is to spoil yourself with flowers every once in a while?
Very important. Right up there with chocolate and beautiful linen!