DESIGN | Hidden Byron
25 MAY
The artfully layered home of interior designer Justine Hugh-Jones in the Byron Hinterland offers respite from the busyness of modern life. Colourful mid-century furniture and unique accessories are offset by modern concrete polished floors. Take the tour.
Tell us a but about yourself and what you do?

I'm originally British but have now lived in Australia for 24 years with my husband and two sons, Louis and Theo.
What does creativity mean to you and where do you source your inspiration?

Creativity is all encompassing and I source my ideas and inspiration through so many different mediums. I never stop observing and absorbing beautiful ideas throughout my whole day. I adore the texture and pattern of textiles, the lines and shapes of furniture, the beauty of rugs and artwork - adding layers upon layers of visual interest to a space. I am an avid reader and researcher and spend many hours over the weekend immersed within the pages of design books and journals. I do need quiet time however to release my inspirational ideas though so that's always a bit of a challenge when busy weeks take over your mind.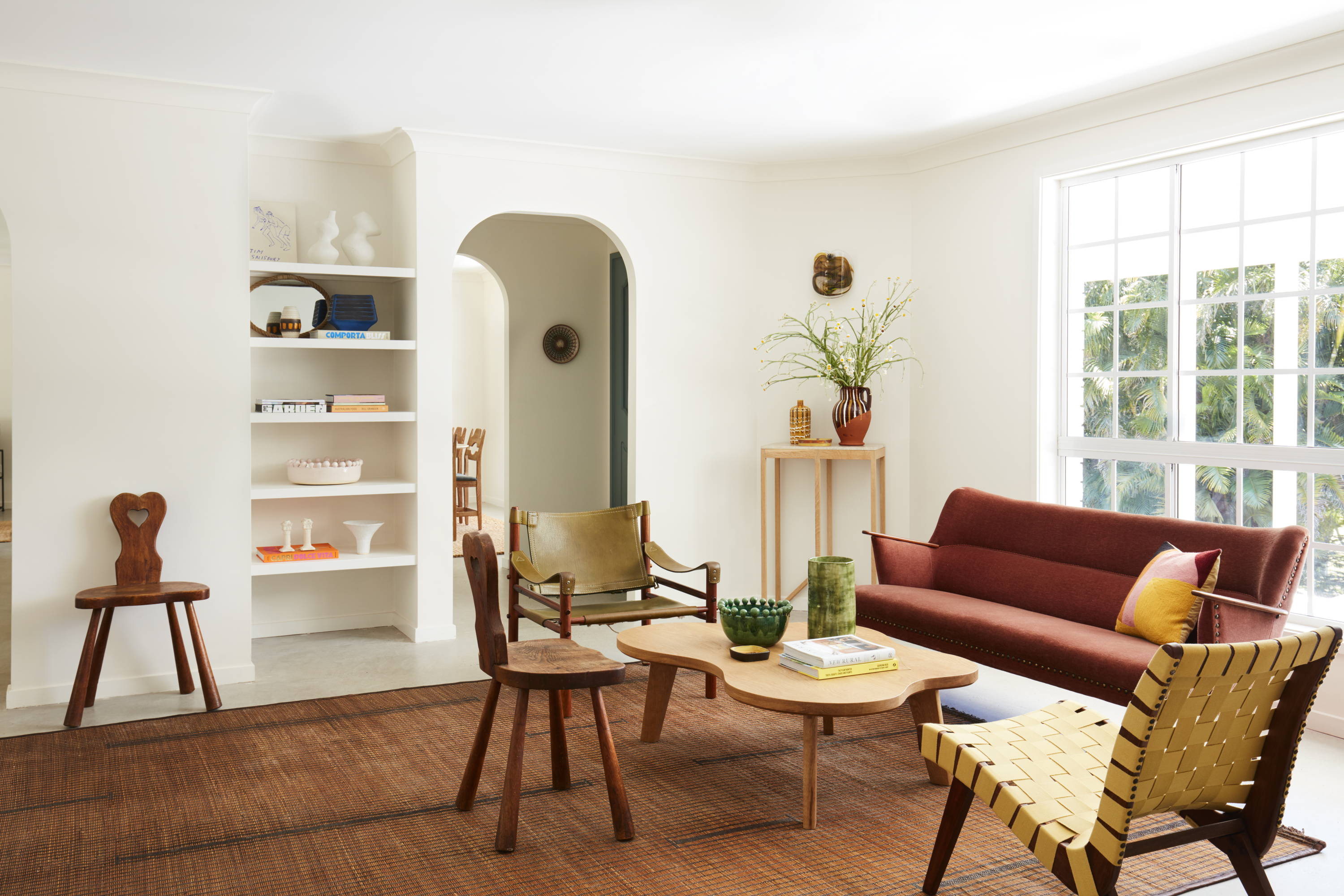 Tell us about your interior design studio, Hugh-Jones Mackintosh.

I established my practice in 2004 specialising in high-end residential design, then joined forces with Katrina Mackintosh to create Hugh-Jones Mackintosh. Our small practice of six is deliberately boutique in nature ,allowing both of us to be closely involved in all projects. We approach design holistically and possess the innate skill of understanding the power of good design with well planned, beautiful spaces.
Our rural retreat, Hidden Byron, set in the hinterland has been a real lifestyle shift for my family and I. I had been dreaming of creating a slower, more meaningful pace of life - immersed in nature and living responsibly in a way that was more aligned to my values. I was inspired by the relaxed southern Portuguese fincas similar to the homes found scattered in Comporta in the hills of the Alentejo region. We found a simple architecturally nondescript bungalow and I started to weave some interior and exterior design magic. The home is one level, very casual with polished concrete floors, furnished with colourful mid-century vintage furniture and lots of timber and wicker. I also had a real desire to lose myself in creating a wild and native garden where I also had the future potential to plant orchards and organic kitchen harvest gardens.
What makes a house feel like a home to you?

It's vital that a house feels like a home from the word go with an in-built sense of history. I'm passionate about what I do and get an enormous amount of pleasure in drawing out from others their vision and then expressing their character with unique objects and furniture pieces – be they from an overseas vintage store or a local craftsperson.
Personally, I believe a house that makes you feel centered and calm, truly expresses all your passions, quirks and interests and who you are to your family and friends is a true home.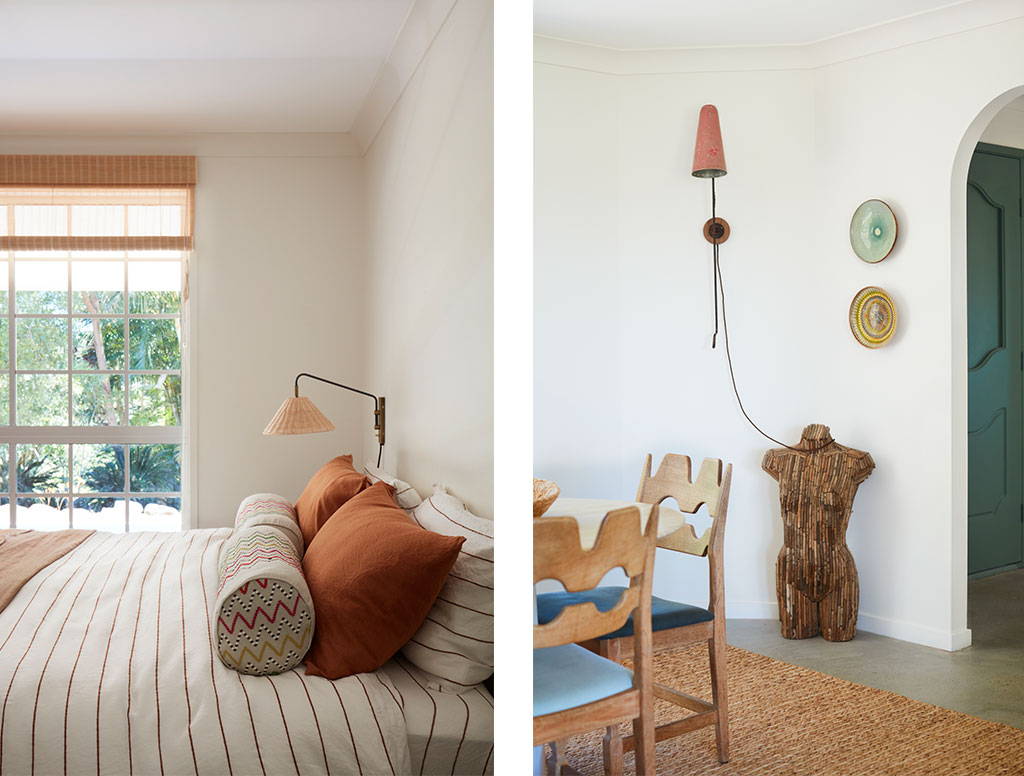 How do you endeavour to make people feel at home through your studio?

Funnily enough I have always had my studio integrated into my own home so people immediately feel at ease and welcomed by visiting the space. I have thought many times over the years to move out but I think it works so well that we have happily stayed.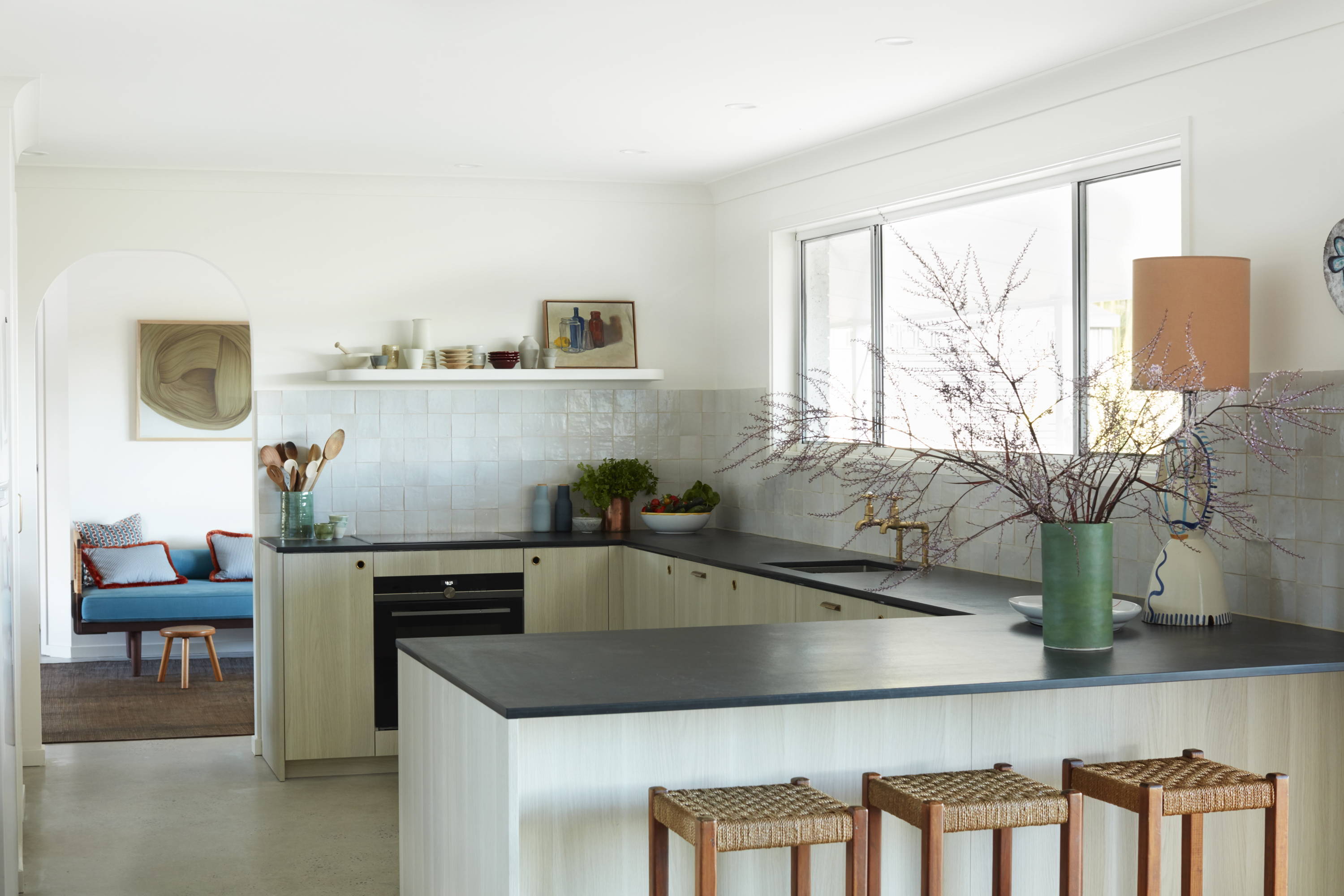 What are your daily rituals?

I'm not intrinsically a morning person and creatively I'm a real night owl but over the years I now love rising early and seizing the day before life gets too crazy. I love practising yoga and meditation or going for a long walk immersed in nature or by the ocean. When I am up in Byron I wake before sunrise and love pottering around in my garden alongside the incredible birdsong and all the sounds of a new day. Work days are spent with my team and our clients on site alongside the architects, builders, landscape designers and other specialists who we collaborate with on a daily basis. On the weekends a lot of my creative energies are spent relaxing in my or other people's kitchens, enjoying the company of people I love!