STYLING | Tips on Tablescaping
17 JUN
To celebrate our launch in the UK, we invited a select group of tastemakers, journalists and stylists to Luca Restaurant, who serve delicious British seasonal ingredients, through an Italian lens. Australian-born, London-based florist Simone Gooch of Fjura styled the florals, the table was set in our Linen Tablecloths and Linen Table Napkins, so that guests could experience firsthand the softness and quality of our linen pieces. Our founder, Nicolle Sullivan, spoke about the exciting milestone of launching in the UK in 2022, ten years on from starting the brand in 2012.
The art of dressing a table, is one of our favourite things to style at CULTIVER. The aesthetic can change depending on the season, occasion or location. It's an opportunity to be creative with florals, styling, and textiles - linen, of course. Inspired by our lunch, discover our style tips for tablescaping below:
Large floral arrangements are impressive and create atmosphere, but can obscure the eye-line of the guest seated opposite, making conversation difficult. Large arrangements also take up valuable space on the table, especially if you have sharing plates. To style florals for the table, place singular stems, cut for the size of the vase, in an abundance of bud vases, nestled amongst a few taller stem vases. For this lunch our florist chose a pastel palette in soft blues, pinks and yellows to echo the colours of our linen. Layer greenery draped along the table, weaved between vases for visual interest.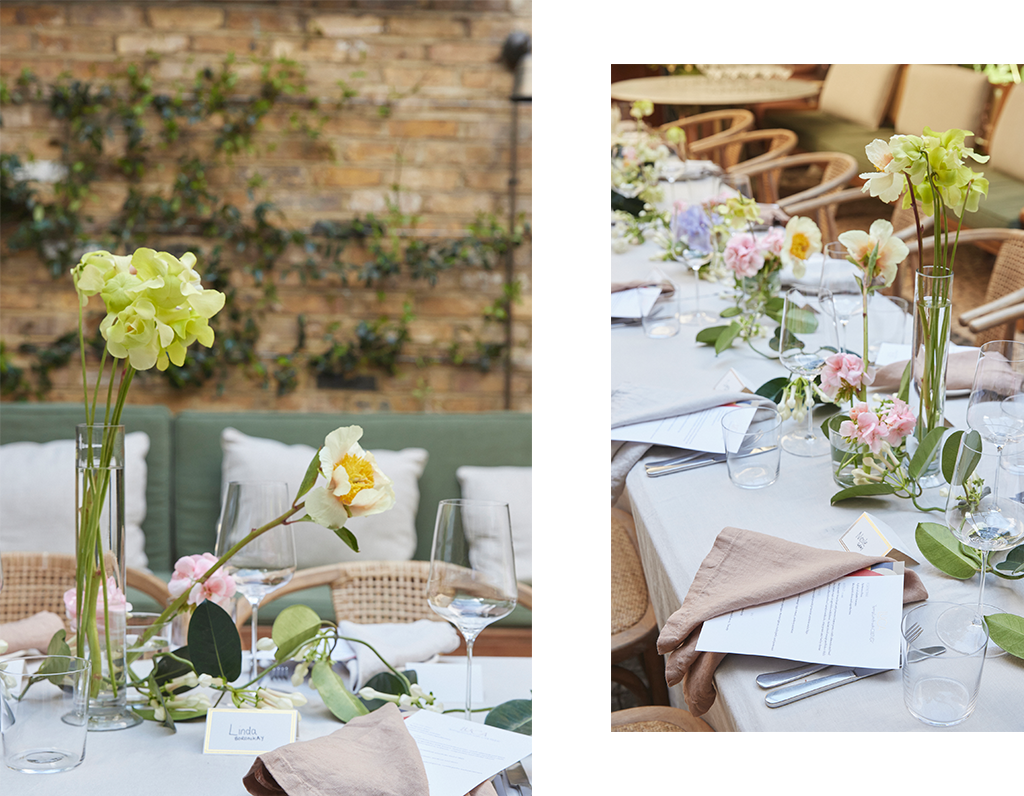 Linen is our textile of choice, for its distinct drape and texture. It elevates the occasion, allowing your arms to rest comfortably against a Linen Tablecloth and styling with mismatching Linen Table Napkins is a serious upgrade on paper towels, which are not elegant or environmentally friendly. For the colour palette, on this occasion we chose Linen Table Napkins in Fawn and Smoke Grey, which style seamlessly with our Linen Tablecloth in Smoke Grey. A tonal, pastel palette, perfect for an effortless spring lunch.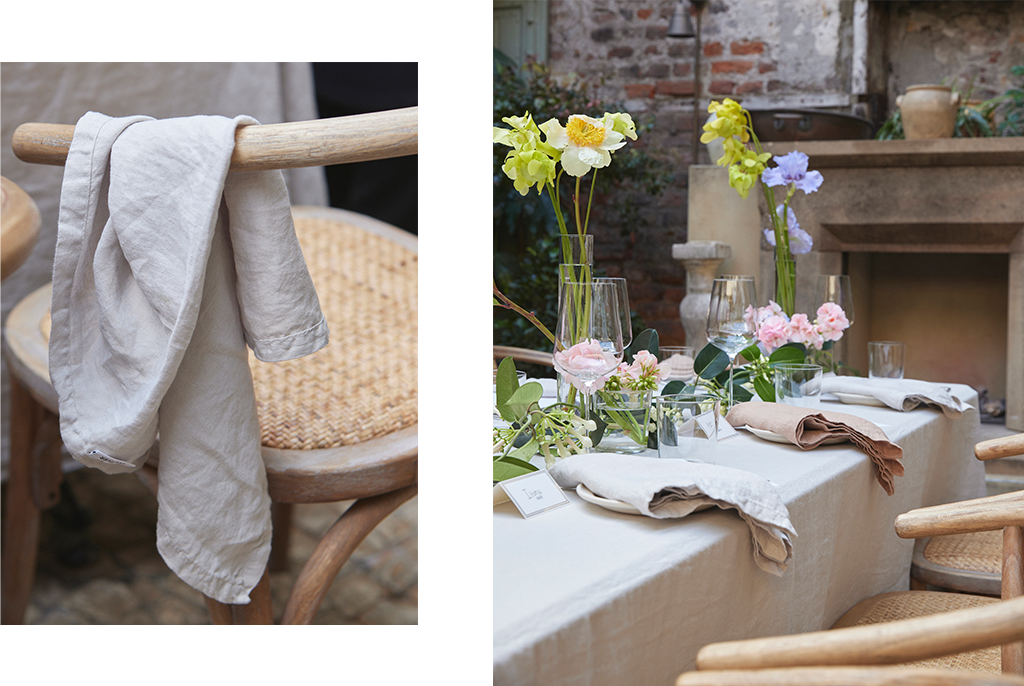 Florals and textiles are key elements of tablescaping, but there are creative ways to style a table without - a light linen throw can serve as an excellent tablecloth, and instead of florals you can use fresh herbs - such as rosemary, marjoram and basil. They are just as beautiful as flowers and give off a lovely herbaceous scent. You can also style with produce, such citrus, gourds or stonefruits - anything used in the dish to tie the tablescape together.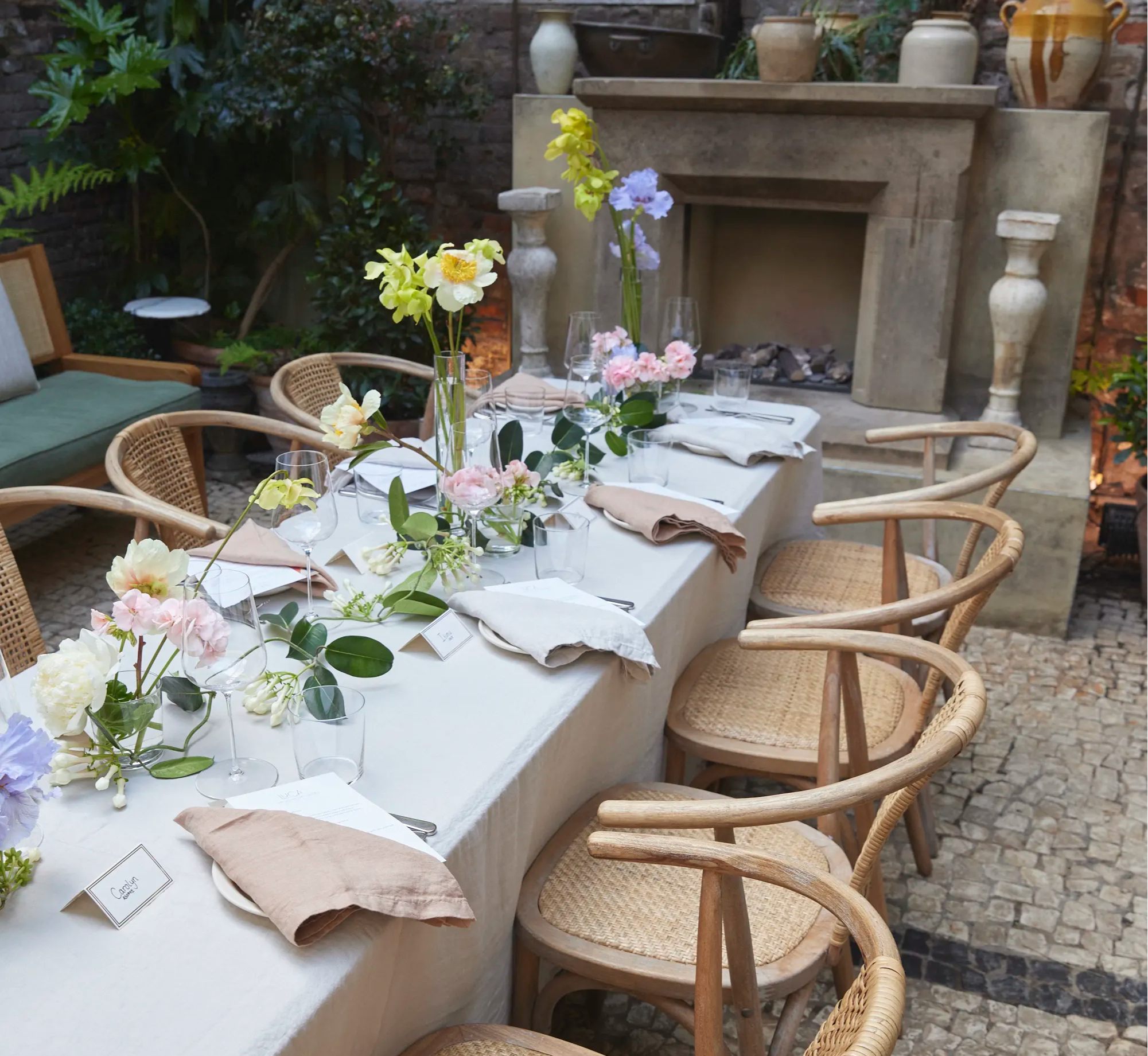 Guests at our Spring Lunch at Luca.