RECIPE | Spinach & Ricotta Lasagne
10 JUL
Written and styled by Lucy Tweed. Photographed by William Meppem.
It's that time of year when snuggling into soft linen sheets happens all in darkness. By the time we have tiny people sleepily plod into our room for a morning cuddle or our sleep rhythms tells us it's time to wake up, the sun hasn't yet popped up from the ocean. Throwing back the bed sheets with happy anticipation for the day is reserved for the warmer months at our house. Although to compensate, we embrace the chill with thicker socks and slower cooking.

Heaven to me is the changing scent of an all day cooking process. The softening of onion in butter, the intensity of garlic being added, deglazing, searing, rice steaming, stock simmering, ragu braising. But sometimes the heaviness can become too much.

So shortly after the whisper of freshly brewed coffee and perfectly browned toast travels down to my bedroom, I begin thinking about what I can cook, that will take all day if I want it to, and be both comforting and fresh.
The soft folds of pasta in Lasagne, I'd like you to meet the sweet lemon and herb bliss of silverbeet Spanakopita.
Like any Hollywood union worth remembering, you shall have portmanteau: Spazagne no wait, Laskopita... I don't know, you can call it. But I will show you how to make it.
And the best bit is, it's one very acceptable dinner to eat while wrapped in a throw, and curled up in your sofa.
Spinach & Ricotta Lasagne
Ingredients
1 onion, finely chopped
5 garlic cloves, finely chopped
2tbs olive oil
3 bunches silverbeet, green leaves removed, white stems discarded
1 cup parsley, finely chopped
1 cup dill, finely chopped
1 cup mint, finely chopped
1 cup basil, finely chopped
500g ricotta
1 cup goats curd
1/2 cup parmesan, finely grated
1 lemon zested and one half juiced
400g passata, or tomatoes crushed, strained and salted
1 garlic clove, crushed
1tbs olive oil
250g fresh lasagne sheets, blanched
8 sheets of filo
Olive oil spray
1tbs black sesame seeds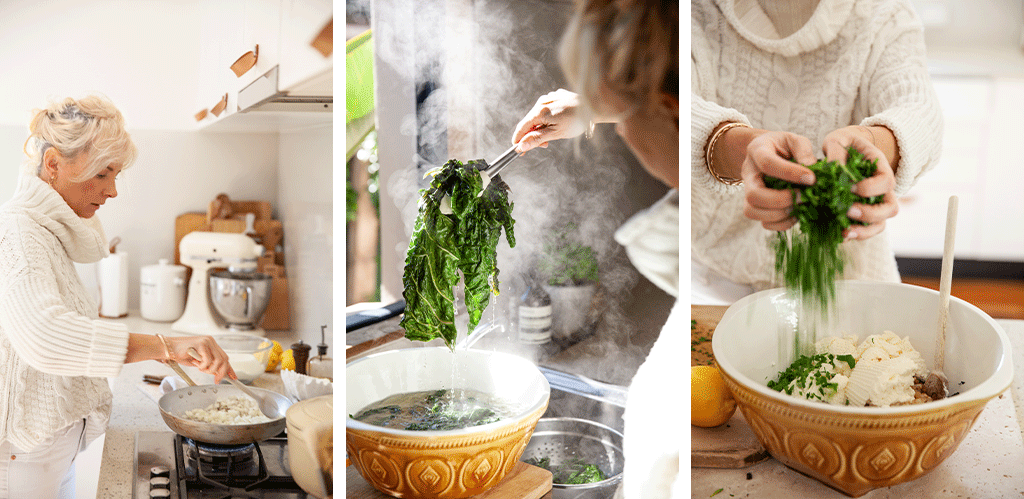 Method
1. Preheat oven to 180°c.
2. Over med heat, sauté the onion and 5 garlic cloves in 2tbs olive oil till golden and soft, not burnt. Season and allow to cool.
3. In a large bowl, cover the silverbeet leaves in 1-2 kettle fulls of boiling water. After 3mins, strain away al the water and twist squeeze the leaves in a tea towel or napkin to remove as much excess water as possible. Roll the leaves together and finely slice.
4. Medium/rough chop the 4 cups of herbs.
5. Thoroughly combine the silverbeet, sautéed onion and garlic, ricotta, goats curd, parmesan, lemon zest and juice in the large blanching bowl. This is best done with your hands. Season well.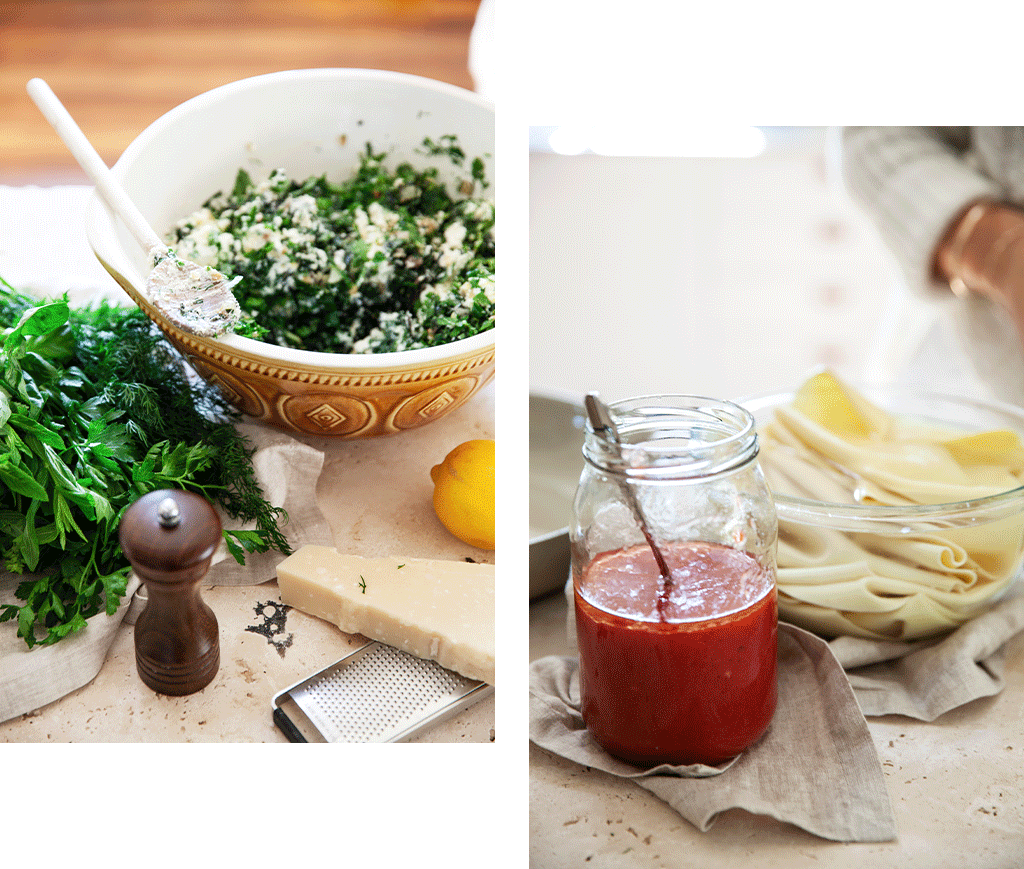 6. Combine the passata, garlic and remaining olive oil.
7. In a large baking dish, layer as follows.
1/4 qty of passata.
Blanched lasagne sheets
1/3 qty of spinach & ricotta mix
1/4 qty of passata.
Blanched lasagne sheets
1/3 qty of spinach & ricotta mix
1/4 qty of passata.
Blanched lasagne sheets
1/3 qty of spinach & ricotta mix
1/4 qty of passata.
8. Gently scrunch and fold the filo sheets one by one to make a rough tissue-like top to seal the filling. Spray with olive oil spray and sprinkle with sesame seeds. Fan bake for 45 minutes.
9. Serve with extra virgin olive oil, lemon wedges and grated parmy.