RECIPE | BBQ Lobster Rolls
10 JUL
Words and recipe by Lucy Tweed.
I lived in Queens NY, for a couple of years in the late 90s and haven't been back since my last visit in May last year where I spent 3 glorious weeks galavanting around California with my sister who now lives there. The garden roses still bloomed the size of dinner plates, the spring flea markets yielded plenty of booty and the undeniable cute splendour of American dining was abundant.
No one really gets the fun of a DIY situation as well as the USA in my opinion.
Our help yourself salad bars seem wilted and lame, with most of them being sneezed out of existence.
Our room service lacks the kitsch fun of "to scale" miniature ketchup and mustard glass jars.

Our takeaway cafe experience doesn't glorify the compartmentalisation of food on once revered air travel.
Our very casual, very inexpensive dining options equate to vat frying crap, certainly not a half n half option with a squeeze your own lemon, add your own pepper bloody mary.
So when asked to pay homage with a recipe to a country I think is wonderful and possibly the benchmark for detail in customer service, my imagination goes immediately to DIY.

I mean who doesn't like to customise down to the last pinch of salt.
Of course there is a place (on level 78 of the crystal tower) where food should arrive, sometimes unrecognisable, where you find yourself too busy counting fork tines and questioning your own intelligence to dare ask for salt and pepper...
But the Fourth of July, with friends and butter dripping down to your elbows into the soft folds of a napkin, is definitely not it.
Enjoy and have a happy and safe Independence Day.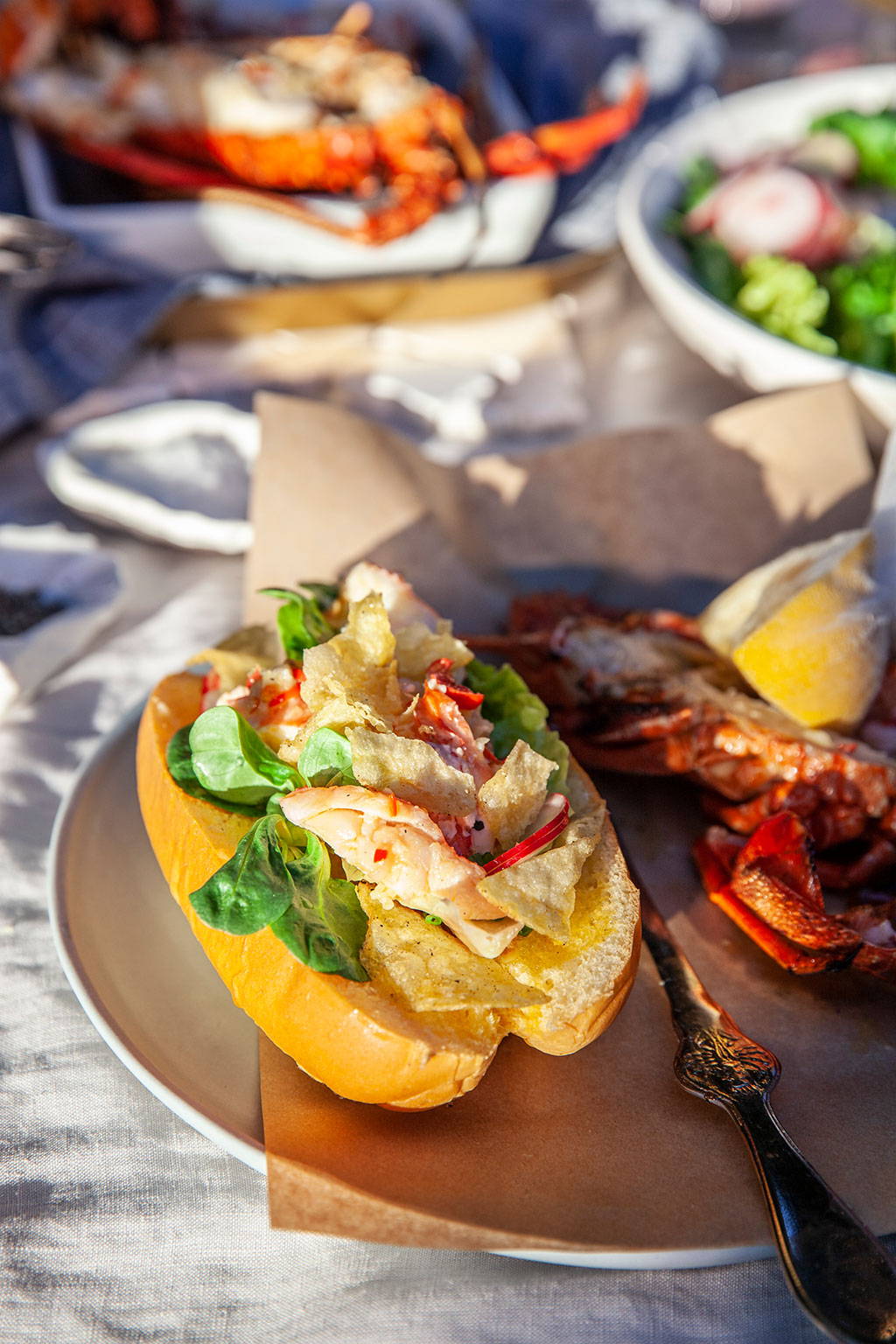 BBQ Lobster Rolls.
Ingredients
4 brioche hotdog rolls
2 whole cooked lobster, cut in half
225g salted butter
4 cloves garlic, finely minced
3 birds eye chilis, finely chopped
100g mâche lettuce leaf (otherwise know as corn salad or lamb's lettuce, but you can use any baby leaves)
1 baby cos lettuce, leaves pulled
2tbs chives, finely chopped
6 baby red radish, finely shaved
Lemon wedges wrapped in muslin and kettle chips (crisps) to serve
Method
1. Combine mâche, cos leaves, radish and chives. Dress with oil salt & pepper just before serving as the baby leaves will wilt.

2. Preheat a bbq grill to medium/high. In a small saucepan, melt butter along with garlic and chilli. Allow this to bubble softly but not boil and burn.
3. Brush lobster flesh with some butter and grill flesh down until lightly charred. Remove from heat, and gently pry flesh from the shell. Slice lobster flesh into large chunks and place back into shell. Return to bbq, this time, flesh side up and drizzle each with at least a tablespoon of butter.
4. Serve the lobster warm on a platter, with fresh buns, the salad, lemon wedges, remaining chilli garlic butter and kettle chips (crisps) to crumble on top.
Be prepared to lick your elbows.