INTERVIEW | Liz Gardner & Josef Harris
20 FEB
All homes tell a story, but this is particularly true of the home of Liz Gardner and Josef Harris, owners of creative studio, Bodega Ltd.
When the creative couple stumbled upon a three-story 1920's structure in Minneapolis, they felt an instant connection, but the timing just wasn't right. Years later, the property serendipitously came back on the market and Liz and Josef swiftly secured it, leading them on a remarkable 2.5 year renovation journey.
What we love most about this home is that Liz and Josef have retained the connection to the building's history, with a careful balance of period features and contemporary details. We spoke to Liz about the peaks and challenges of this journey and life with Josef and their Siberian Husky, Agnes in their dream home.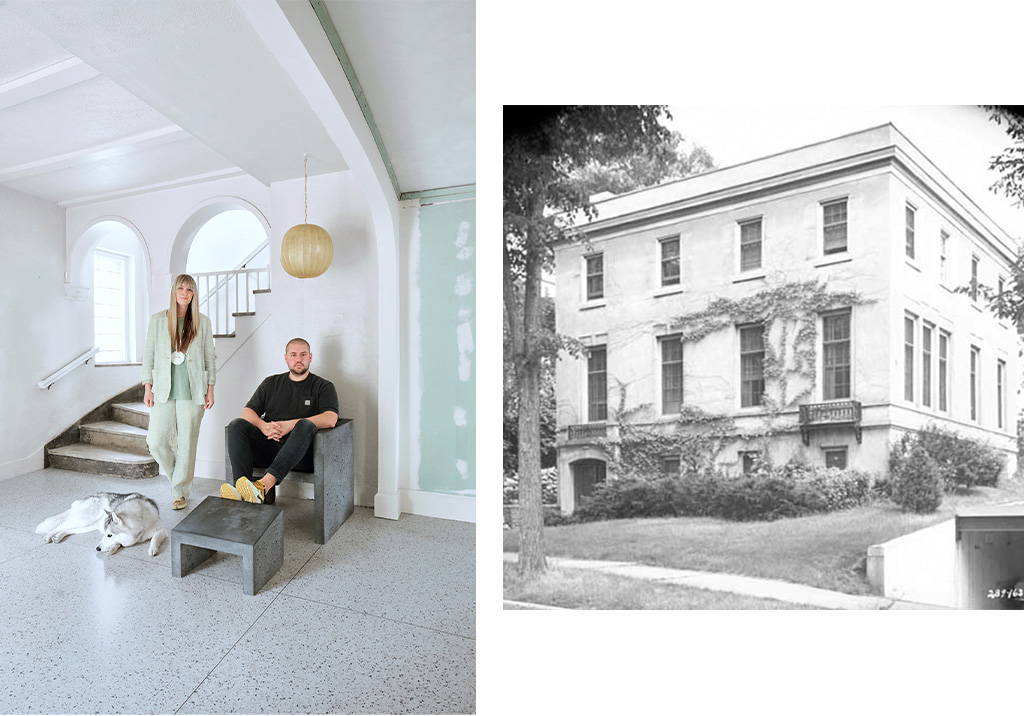 Tell us a little bit about yourselves.
Bodega Ltd. is a multi-disciplinary creative studio we founded in 2014.
What is the story behind your current home and why did you fall in love with it?
I (Liz) saw this property and fell in love with it years before we ended up purchasing it. Its nearly square footprint, six over twelve windows of wavy glass, plaster archways and marble stairs all stood out in a city where dark wood and arts + crafts details tend to be the norm. After seeing it, the house sold and I was bummed. A few years later, our friend and realtor James Brown called and said it was back on the market after an attempt to turn it into an apartment building.
We visited and within a few weeks had placed an offer and within months we were staring straight in the face of a 2.5 year renovation. After initial research at the historical society and city records office, we found original building documents that listed original contractors as Gardner + Harris. It definitely felt a bit like kismet to see little details like this show up nearly 100 years later.
Modernising a century-old structure can't be an easy task. What did you find challenging about the process?
The building has a unique clay-tile construction, meaning a majority of the walls are nearly solid. This proved challenging for updating systems like electrical and plumbing. It required a lot of coordination between our architect, contractors + inspectors. Also, there's just so much labour involved in a project like this. Josef and I (and my parents) did all of the demolition and have worked closely with everyone on our team during the entire process.
And what did you find most enjoyable?
We really enjoyed the process of keeping some of the ephemerality and age of the building intact. During renovations, I often think that the instinct is to remove or update the old, the wear and the story. We worked really hard to keep notes of that intact, as well as selecting finishes and materials that feel like they could have been here all along. One of the best ways to accomplish that was to select "living finishes", meaning things that tarnish, patina or wear - and we just work with those processes to make them feel original.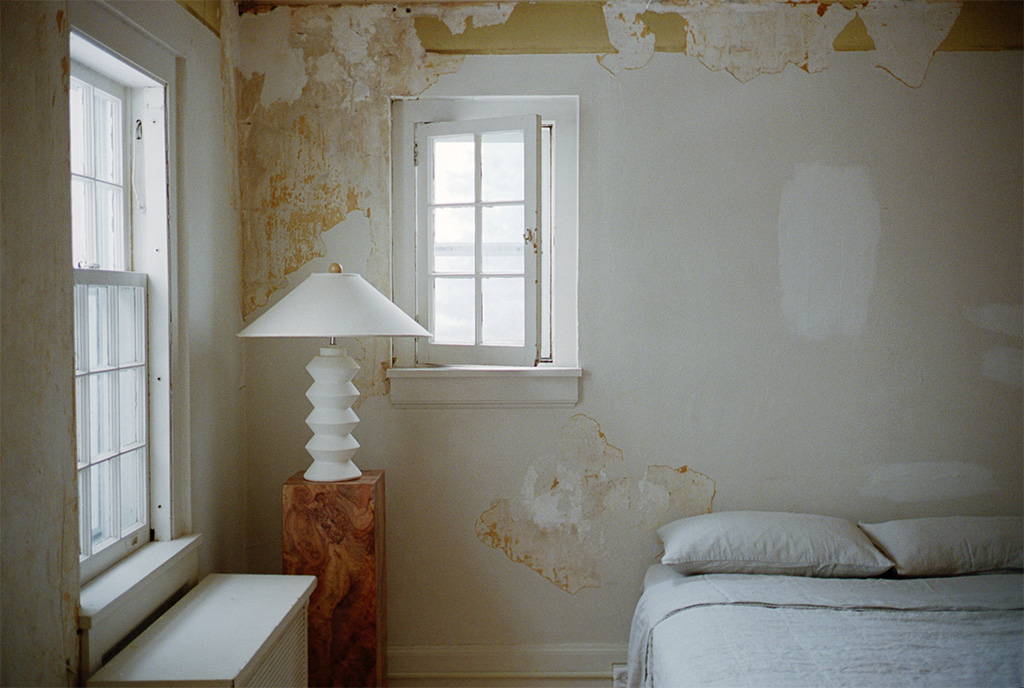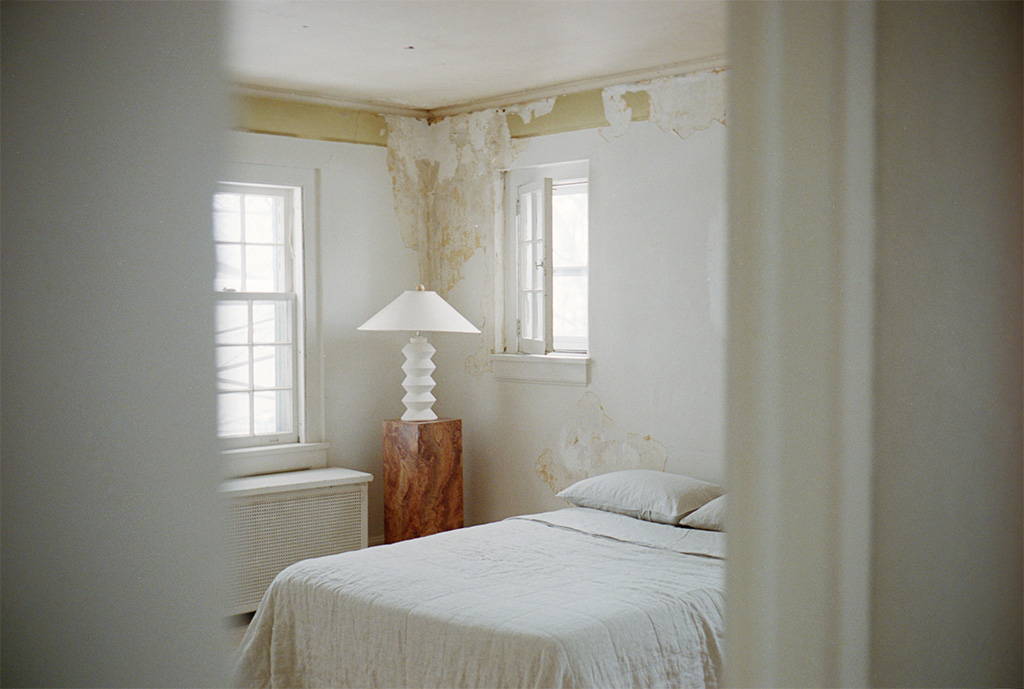 You've transformed this building into both a living and working space. How do you find a good work/life balance?
We have always felt that when you are doing work that you really enjoy and is congruent with your philosophies and with people who inspire you, that work/life balance becomes less of a focus. When we started Bodega Ltd. we joked that we only wanted clients that we'd actually enjoy having dinner with - because in this business you inevitably spend a lot of time together. Thankfully, we really do work with those who we respect and enjoy. It's why our workspace has a table large enough for clients during the day and for dinner for 30 at night.
What do you think is important for making a house feel like a home?
We value light and how it moves through the space throughout the day. Living in the cold, north it's the most cosy to feel the sun. We also love textures from wools, linens, blankets, pillows, good books and candles while cuddling with our Siberian Husky, Agnes. We also collect objects with meaning - not just things for the sake of it. We are thoughtful about the items we bring into our space, how they are made, and where they come from.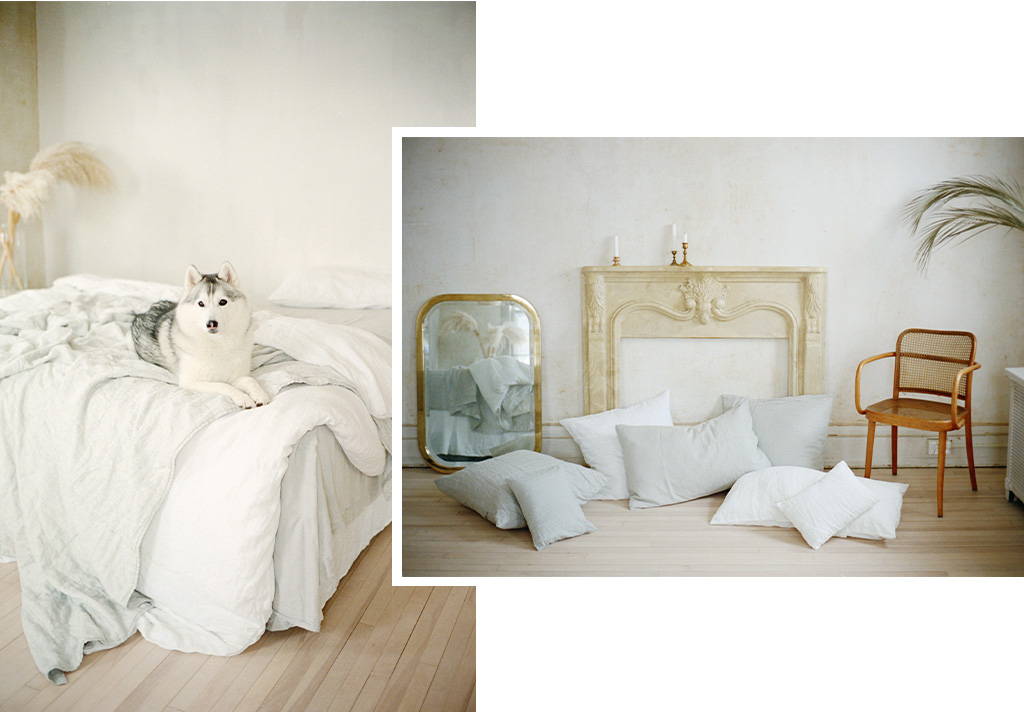 What is your favourite way to unwind at the end of (or during!) the day? and a treasured weekend ritual?
Our favourite wind down activity is to sit in our apartment with Agnes, read books and chat about the day with a glass of wine. Weekends are for longer walks with the dog, stopping at the park to watch the ducks and a stop at the adjacent sculpture garden where she can walk in wildflowers and tall grasses. And with a renovation like this, weekends always mean a few projects around the house - but we love the idea of stewardship and taking care of something as priceless as our home.